Hi there,
I think it's safe to say that nobody here makes interactive fiction to get rich. I just read today's blogpost by @zarf where he alludes to the fact that writing original IF games for profit is "tricky at best". Indeed.
As I was reading that, I happened to remember a rule of thumb for guessing Steam sales from number of reviews, and spent some time looking at IF games (both parser and choice-based) on Steam. I started with Thaumistry and Anchorhead, continued with a sampling of Choice of Games games, added Sorcery!, and kept going until I had about a dozen.
I took the numbers publicly available on Steam, made many assumptions, and put it all into my unsure calculator. This tool gives me the ability to use ranges instead of single numbers. It's still a back-of-a-napking calculation, but at least the uncertainties are acknowledged in the input as well as the output.
The resulting table is accessible here.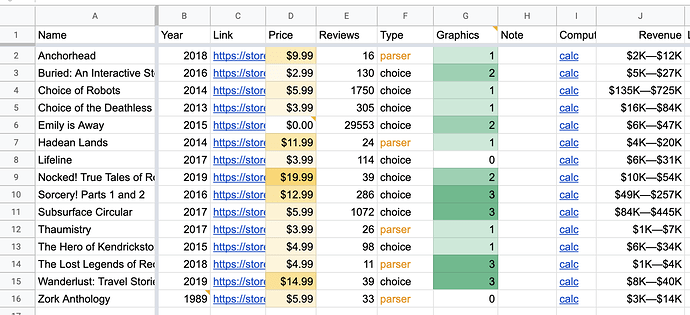 Most of the results are unsurprising:
You don't get rich with IF.
Parser-based IF sells much worse than choice-based IF.
Better graphics generally leads to higher revenue (but of course it also leads to a higher budget).
If you want a lot of people to play your game, make it free.
And then there were things that I find interesting:
At the level of sales you can expect with most IF games (especially parser games), price doesn't seem to matter. Games with a higher price didn't do significantly worse than cheaper games. I guess the niche is so small, people don't mind shelling out.
It is, in fact, possible to have a free-to-play IF game (with in-app purchases), and it's not doing too bad.
Choice of Robots seems to have done really well on Steam. Better than games with several times higher budgets.
The parser disadvantage is even more pronounced than I thought. Not even very nice graphics and animations help when a game is parser-based.
I hope this is helpful to some of you out there, and I hope it's not too discouraging. I know most authors of IF do it as a hobby. I think this analysis shows that it's not completely crazy to think you could make some money (just don't quit your job to write IF just yet).
I'm hoping that the IF community stays indie and mostly non-commercial. But I also hope that some of us can find ways to make sustainable living from our work. There are strategies that seem to work, and there's more people could try. If we want another infocom, one of us needs to figure out how to make a sustainable business from IF again.