Hello and welcome to a Let's Play of Dave Lebling's Spellbreaker!
Spellbreaker is the final chapter in the six-game Zork Saga. That Saga consists of the original Zork Trilogy as well as the subsequent Enchanter Trilogy: Enchanter, Sorcerer, and, yes, Spellbreaker.
I plan to start posting gameplay content and commentary tomorrow, but I thought a preliminary post might help people prepare, especially if they would like to play along.
I will be playing release 87, which is the version included with the "Masterpieces" anthology. Saved games are version specific, so you should choose r87, too, if you might need one of my saves. Or want to show me one of your saves! You can find the correct file here. It will run in every interpreter that I can think of.
I always encourage people to review the documentation and feelies. In this case, they serve as copy protection, too, so you will need them if you want to play.
Frobozz Magic Magic Equipment Catalgog (and manual)
Collectible Enchanter Cards (front)
Collectible Enchanter Cards (back)
edit: Posted the wrong link for the card backs. Fixed now.
Maps and Invisiclues are available as well, but I thought I'd hold off on posting them unless someone makes a request. Which would be fine! The first thing I did when I beat any Infocom game was read all the hints (or as soon as possible, when applicable). I think they're fun.
I will try to focus on exploration, then leave time for everyone to think about puzzles between posts.
Disclosure: I will be abusing the undo functionality built into Frotz to overcome one specific puzzle, but you can use my save if you'd like to attempt it yourself. I solved it once 30 or so years ago, and I don't think it's interesting enough to do again. Just putting that out there!
Let me know if you have any questions before we get started!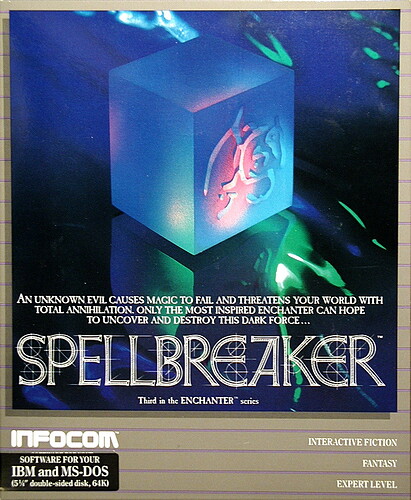 Back of box blurb:
Spellbreaker, the riveting conclusion to the ENCHANTER trilogy, explores the mysterious underpinnings of the Zorkian universe. A world founded on sorcery suddenly finds its magic failing, and only you, the leader of the Circle of Enchanters, can uncover and destroy the cause of this paralyzing chaos.

The very core of your civilization is under siege, and only a perilous journey through the black foundation of magic itself will yield a change for survival.

And although your triumb over this unknown Evil is uncertain, you must embark without hesitation and prove yourself the worthiest mage in the land.
See you tomorrow