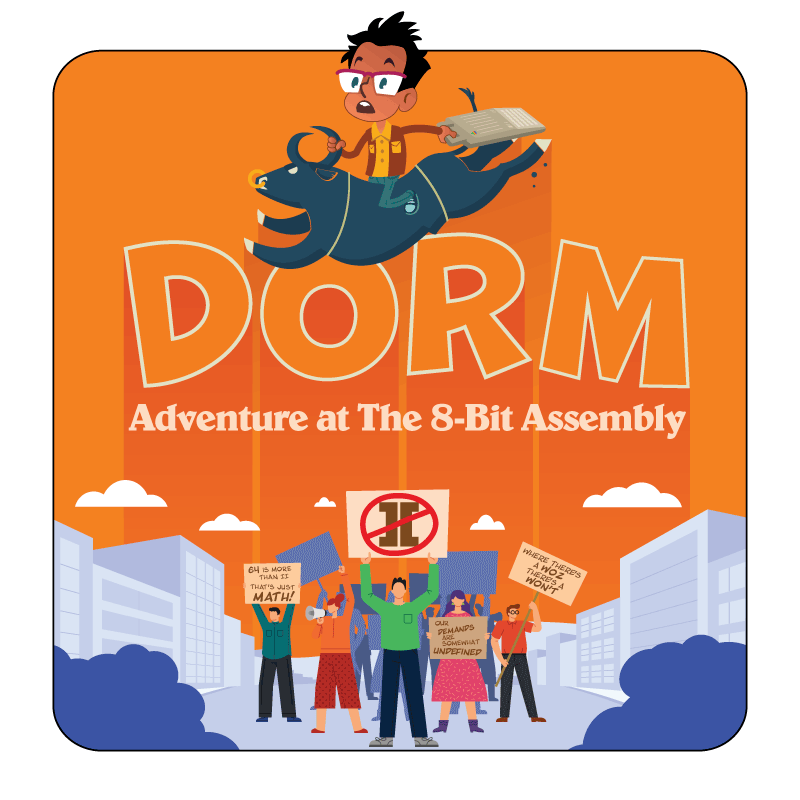 This is an Infocom-style retro text adventure, made in Inform 6 using PunyInform. The game comes with extensive Feelies.
This is my first IF game.
It's available to download and play now: DORM: Adventure at the 8-Bit Assembly
The download includes a .z3 file to play offline using an interpreter such as Frotz or Lectrote, and also includes an Apple II disk image for a seriously old-school experience.
This is an old fashioned puzzlefest. If you get stuck, the web site has InvisiClues style hints, as well as a complete walkthrough and map. There is also a For Your Amusement section should you complete the game.
Like anybody's first game, it is probably riddled with bugs.
Synopsis:
You're about to attend a retro Apple II computer convention styled after KansasFest, where you'll stay in a university dorm along with fellow vintage computer nerds. You'll compete in silly contests, brave dubious cafeteria food and sweltering Midwest heat, and try to find a boxed copy of your favourite Infocom game.
At the same time, rumours fly about dark magic and bizarre occurrences, not helped by the black robed figures you keep spotting around campus. Are those professors, or something more nefarious? Meanwhile, an angry throng of Commodore protestors is amassing at the front gate, and an unhinged Macintosh pirate is menacing the quad in a Bondi blue Volkswagen Beetle.
Will you find a copy of Wishbringer to add to your collection, or will the campus literally come alive and start eating attendees? And did that massive statue of a bull over by the bleachers just blink?? Uh oh.
Dorm is available now for Apple II and lesser computers.
Acknowledgements:
I made this game but it was far from a solo project.
I'd particularly like to thank the amazingly kind people who helped beta test the game, including these IF community forum members: @dee_cooke, @fredrik.ramsberg, and @johnnywz00. A number of people from other places were also a huge help with testing. I couldn't have made this without all of them.
The game is released free with an MIT Licence.