Back in May, I made a thread about making a game for the first time. But what about playing IF for the first time? Some possible—but certainly not mandatory—questions you might answer:
What IF game did you first play?
What tech/platform did you play it on?
How did you discover it?
How old were you?
Have you been steadily into IF ever since?
Did it inspire you to write a game?
My first IF game was Zork I on the Commodore 64. I'm pretty sure that I was nine. It was in the old CBM packaging, which I prefer to the more familiar folio and gray box covers. Is that skull-person meant to be the Thief? I think so! It was a parser game and the first microcomputer game to run in Infocom's famous "z-machine."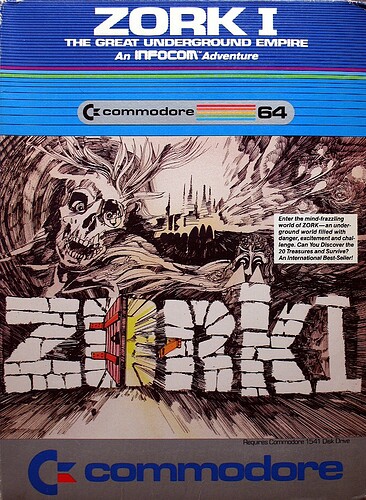 My friend's big brother was a bit of a hacker. He didn't buy many games, but he chose to pay for Infocom games because he thought that they were worth the money. That's where I first played
Zork
—at my friend's house. We took turns at the keyboard. I was amazed by what seemed possible.
Zork I
seemed far beyond what I believed home computers could do at the time.
I was not steadily into IF afterward. I kept up during the C64 days, and then played everything (new and old) when the Lost Treasures of Infocom came out in the early 90's. I peaked in on the newsgroups, but only as a dabbler. I know that I tried Curses and Christminster at some point. Somewhere in there, I tried to learn Inform 6. However, I was tired of doing IT stuff all day. I didn't want to come home and program. Then, a long hiatus. I replayed many Infocom games in the mid-teens (2015 or so) but not all. I had an idea about making a game, but it never went anywhere. I was focused on poetry instead. Got an MFA.
With Gold Machine, I seem to have become pretty serious about IF. I started it just as a way to kill time. I'm disabled and had recently dropped out of a PhD program. I needed something to do. That's been good. I came to this forum because someone here shared a link to Gold Machine. Later, I decided to make an Inform game because there are always threads about code and testing here. I figured: so long as I'm here, might as well. I was excited about reader experiences that traditional, sequential text could not offer. That's been good, too!
What about you? What is your IF origin story? How about the rest of it? This is not a stealth parser thread! I'd love to hear from all sorts of players about all sorts of games. Everyone is welcome.