Just to be explicit, the trope I am referring to looks like this, a horrible bit of doggerel I wrote myself for the sake of example: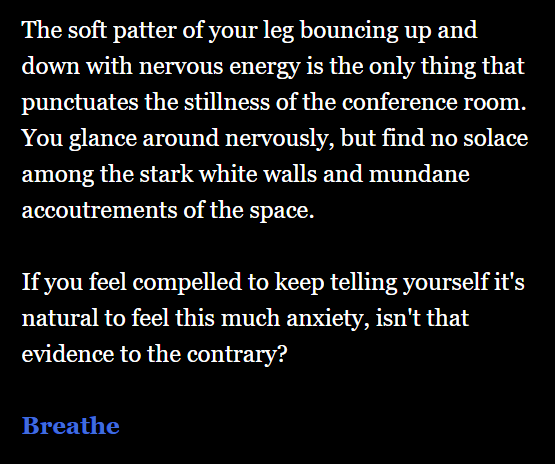 I was curious how others feel about this storytelling method.
While it is certainly one of many tools in any author's toolbox, and no tool should be discarded out of hand, I must confess that it grates on me a bit every time I see it.
In fact, it feels much worse than simply clicking (more) or (next) for me personally. I understand the importance of fitting all text on the screen without scrolling, wherever possible. Often a link like this is employed as a separator just to get you to the next page. But (more) or (next) serve the same purpose and are much more neutral, in my opinion. I suppose that could also just be my own perspective, and others might find them clunky or annoying, but seeking that perspective is partly why I wanted to pose this to the community.
What I don't like about it is the implication that I have chosen an action for a character to take when it's clear that I have made no choice at all and simply advanced the text. I come to interactive fiction for the interaction, and this does not feel like interaction. I haven't told my character to "breathe," I've just clicked the only link on the page you allowed me to click. There's a sense of being talked-down-to, or being railroaded. A lack of agency. In fact I would even prefer two options providing the illusion of choice, both leading to the same page, over the single option.
I also understand that sometimes the single choice has a specific purpose, usually to demonstrate that in this moment the character lacks agency, or is only going through the motions/doing the next natural thing in the course of their situation. However, I feel like this comes up so often in choice-based IF that it's become more of a distraction than a meaningful statement. Some games have used this tool really well, but in most of those cases they have taken steps to earn it.
Whenever I encounter this, it feels as if I am reading a book, and the bottom of every page says "if you would like Michael to hurry to catch the bus, read the next page."
This is probably also just my own malfunction, but I almost feel a compulsion to click through these single choices more rapidly than I might otherwise. Seeing several choices at the bottom of a passage encourages more careful reading; it makes me think "oh! There's a pivotal decision point here."
Another part of the reason I bring this up is that it seems it may be one of those topics commonly understood or felt, but not articulated. I don't wish to call anyone out or make anyone feel bad, but on occasion I've gone back through past IFComps and looked through various entries…for the past few years, there always seems to be one entrant at or near the bottom of the list that uses this technique extensively. There may be a correlation between filling a game with these single choices and a dislike among the community, and it could be worth talking about why that is.
What are your thoughts?