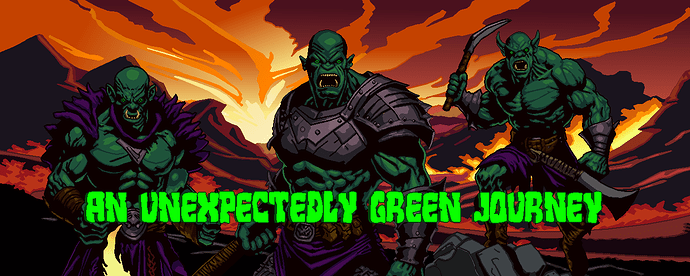 UPDATED 30th October)
(Updated and added the first part of the Adventurers Guild path for mature orcs. You can choose adventuring companions and engage in quests which increase in difficulty as your renown grows. The code was a bit more complicated here and, although I have done my best to avoid errors, some may have slipped in!)
Hi Everyone,
I am nearing completion of my Choice Script game, An Unexpectedly Green Journey. Here, you will take an orc from birth and adventure around a lore-heavy world. Perhaps you'll become a shaman, a chief or king, a gluttonous big belly or even a demon lord!
I would say the game is, roughly 75-80% done, content-wise, at 875+K words.
I would love for people to play through it, see how they enjoy the concept and, hopefully, flush out bugs and typos.
The link to the current demo is on DashingDon
You lend your help, with bugs and things, here, or on the relevant Choice of Games Forum.
To all those who fancy a chance at living the green life, I hope you enjoy your adventures!
Cheers!