Congratulations to everyone involved in Parsercomp!
Congratulations @mathbrush. I've not been playing much IF lately but I played your entry and loved it. I only needed a couple of hints.
Ahem…
Houghtonbridge.
One word.
Took you longer than I expected, actually, to spot that deliberate mistake that I put in just to wind up @dee_cooke (who is a professional proofreader).
Also gave me palpitations to think I might have got it wrong on the certificate, that I posted today. But no, thankfully it is correct on there!
Argh I was biting my tongue about that! If it's correct on the certificate though, I will forgive you… just.
The trophies for 1st and 2nd place are on their way.
I find it interesting that both trophy winners are located in Texas…
All of the power outages give us time to think…
Well, Texas doesn't win at very much, so good for us. Before this, we only consistently won at "size of roaches" and "cheap cuts of meat cooked deliciously." Proud to represent.
And "Walker: Texas Ranger".
Got the lantern today! Looks great!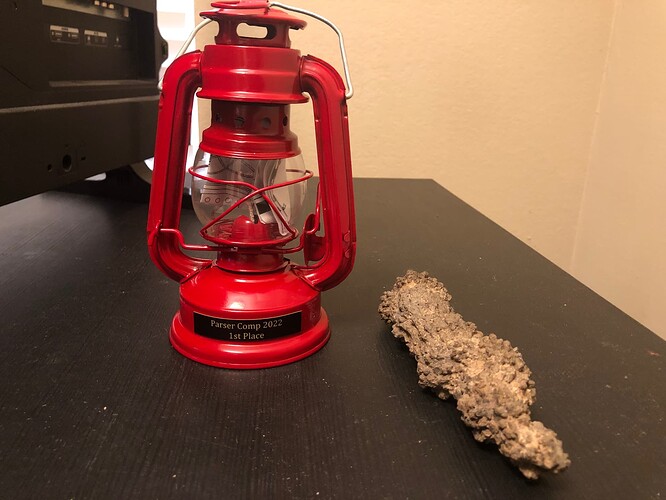 (Pictured next to the dinosaur poop I picked as an IFComp prize years ago).
HOLY COW. I got a lantern too? Whaaat?!?
I feel special.
The results for #1 and #2 were extremely close. Without weighting you would have won first place. I felt it only fitting to send you a trophy.
Or maybe they heard Brian's complaint about power outages and figured you both needed a fallback option!
Well, that's just awesome. Thank you. I can tell it's solid silver, so I'm a little nervous about the state of the ParserComp coffers, but I'm just gleeful to have one. Considering I didn't think anyone would actually want to play the thing after reading the CW, and that I might end the Comp with 0 ratings because everyone was pretending not to see it, this is a most welcome prize.
That'll show Greg Abbott!
Oh, I wouldn't worry about that. When @fos1 and I moved into ParserComp HQ, we discovered £50,000 that @Adam_S had sewn into the mattress, and we've been partying hard ever since.
The certs will turn up soon, I hope, at the end of their transatlantic voyage.
The Man didn't want you to win all those comps in a row, you uppity-old-woman, so they rigged the thing in favour of their candidate.
Then the organizers/organ players (lowest on the hierarchical ladder) felt guilty. We told them they should have sent you that bucket of year-old blood, but their moral spine could not be broken. Instead, @fos1 and @ChristopherMerriner switched it for an aluminium lantern.
(I bathed in the bucket instead, little old man hoping for rejuvenation that I am…)
Disclaimer: Rovarsson has nothing whatsoever to do with the organization or inner workings of ParserComp.
Having said that, he would really like to ask Sandra if she would like to have pizza together in that nice little Italian joint he told her about. It would make his day. (8h30… Right by the window… There'll be a dandelion flower in a little vase on the table. )
I had no idea how deep the web of lies and conspiracy was in this seemingly-tranquil community. Somebody should alert QAnon.
tuuuut…tuuuut…tuuuut…
So sorry to keep you waiting. Please enjoy our automated list of choices:
If you wish to report an alien looking up your granny's skirt: Press 1;
If you wish to report Donald Trump looking up your granny's skirt: Press 2
If you want to report an IF person, please do not. We can spare the resources; we'd just rather not.
Best regards, Quintinevere Anontion
That was bail money—you fools!
IFGate: And so it begins.