Aaaaaaaaaaaaaaaaaaaaaaaaaaaaaaaaaaa furious typing
I am so done with my game. The deadline cannot come soon enough for me. I can't stop obsessing over it, and every time I tweak something, I think of a reason why that's a bad idea and change it back. It's crazy-making. Will no one rid me of this troublesome game?
Click Edit → Select All.
Press Backspace.
I was completely done and finished with mine… but then, while walking the dog, a brilliant idea for a final Easter egg came to me! So now I'll need to put that in and consequently will need to rewrite the whole game from scratch.
Excuse me for a moment while I nip off and do that…
If you need that dog checked for ticks, fleas or other bugs, you know where to find me.
Since your game is about dogs, I will share with you that the last time I made Easter eggs and hid them around the yard for the kids to find, my dog found and ate all of them. So be careful where you put the eggs, or Mustard and Custard may gobble them before the player has time to find them.
That could be the Easter egg: an timed easter egg hunt against Mustard and Custard. A game within the game that you can unlock somehow.
That's brilliant! And Christopher has almost two whole days to write it in! He has no excuses not to do this.
Why, what a marvellous idea! Thank you so much for suggesting it.
[screams and immerses head in bucket of water]
Preferably on a graphic ASCII map, with little sprites for the player and the two dogs!
Actually, that wouldn't be too far from a Pacman ripoff. Dogs for ghosts, player for Pacman, chasing little eggs and eachother around.
@ChristopherMerriner , that shouldn't be too hard to cobble up real quick now would it? Just hack Adventuron into submission.
@ChristopherMerriner You really should procedurally generate progressively harder levels of the easter egg mini game with a high-score tracker that links to an online All-Time-High-Score board; all as an absolute bare minimum, of course.
Don't forget the Sound effects and joystick implementation as well.

And come Easter, @ChristopherMerriner will personally present the High Score Winner of the mini-game with a box of homemade chocolate bunnies, delivered to their doorstep.
Easy peasy! There's nothing Adventuron can't do.
Just submitted mine! (I've always been the type to try to hand things in a bit before the deadline, to account for mad dashes to the print shops in a worst case scenario and or files deciding to simply not upload themselves for e-submissions.) Excited to see what everyone else has made this year!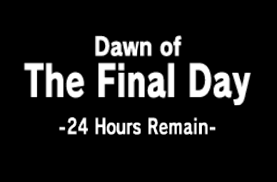 BOOYA. Submitted. Or shipped, or whatever the correct term is. And to my game: don't let the door hit you on the way out. Ready to play the other entries!