I apologize profusely if this is any of the following: obvious, already answered, a terrible idea, beating a dead horse, better solved through some other medium, or other unspecified offense to the IF universe.
I've got an idea I've been sketching out for a while. This isn't my current project, and possibly not even the one after that, but the project that I want to work up to. So if this can't be done yet (or done easily), it may very well be simple by the time I'm able to get to it.
Basically, I would like to create a story with the optional ability (for those with a supporting interpreter) to have a background image. This would ideally change at key points in the story line. The story should theoretically be strongly-enough written that it wouldn't be necessary (so my wife can still play on her phone*), but would add to the atmosphere. Nothing in the images would be necessary to successfully play.
I'm probably not explaining it very well. Mockup done in FocusWriter: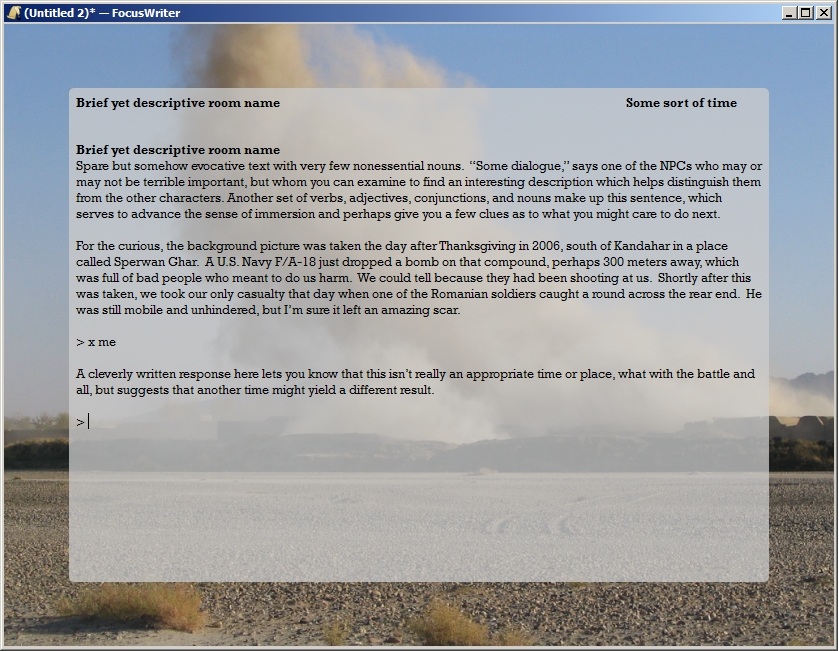 I imagine this would be easiest in a web interpreter, which is convenient since that would be the mostly likely vector for the target audience. Would it be possible to embed the interpreter into a page which handles this (i.e. partial transparency, etc) via CSS? [I could break the story up into parts and load the new part as a new page (and thus image), perhaps?] Is there some obvious solution that I missed? I tried searching, but I'm afraid I may not know enough to ask the right questions. Finally, has anyone else done something similar?
[EDIT: Almost certainly, this would be written in Inform 7.]
[size=85]*She's already seen all of my photos a hundred times, anyway.[/size]