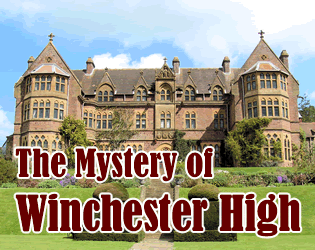 Frederick H Winchester III was a rich man who lived in the city of Dunedin in New Zealand. When he died, his mansion was bequeathed to the city to be turned into a high school. Apart from the mansion, the remainder of Winchester's vast fortune was never found and its whereabouts became known as The Mystery of Winchester High.
You play the part of a 13-year old student who sets out to solve the mystery and find the lost fortune after hearing that the school will be closed due to funding issues and you will be transferred to a worse school.
This is a brand new game written for Text Adventure Literacy Jam 2023. It's a real puzzlefest that's rich in detail, yet easy enough for a beginner to parser-based interactive fiction. It includes a tutorial at the beginning and a hint system if you get stuck (but please try to avoid using this, as it practically gives the game away).
The game was written in Inform 6 using the PunyInform library. You can download the z5 file from The Mystery of Winchester High game page. (There's also a z3 file if you want to try it on a primitive 8-bit computer, but this doesn't support UNDO.) You will need a z-code interpreter to play the game. I will try to add a Parchment-based web-playable version in the next week or so.
While you're there, please play and rate all the other games from the jam.