Hi everyone!
Strand Games is happy to announce the immediate availability of The Guild of Thieves in the 2017 Restored & Remastered edition, the second game from the Magnetic Scrolls anthology: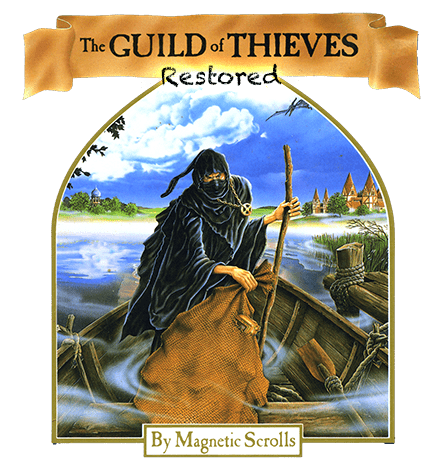 .
If you played The Pawn Remastered, the game appearance will be familiar. The remastered Guild of Thieves is build around the user interface that was introduced with The Pawn, but also got important improvements, most notably
Refinement of the game map, including up/down indicators and buttons for the map and the compass rose
Smart text suggestions for the text entry box when playing the typing way. Why smart? It doesn't give away things you did not discover yet.
New puzzle assistants
and many minor improvements.
The Guild can be played in classic and modern mode, say you can play the game as it was originally released without any modifications (except for bug fixes, which you really want, believe me) and in the modern mode, which makes the game playable without a keyboard and solves some annoyances inherited from the past.
Speaking about the modern mode… the biggest change of The Guild is hidden in the game core. The Pawn was remastered from the binary release data of the game. This naturally imposes some limits in what can be changed during a remastering. But Guild, after the exciting and fascinating recovery of the original source codes, is remastered directly from the original game sources using up-to-date ports of the original Magnetic Scrolls development tools. And this openend a lot of new possibilities. Besides backporting some improvements of newer versions of the Magnetic Scrolls engine, the most notable effect is that we were able to ease the unforgiveness of the game. What does this mean? In the original game - like it was to be found in almost any other game in the 80's, too - is was very easy to loose the game and not knowing until many,many moves (say gaming hours) later, e.g. by destroying items unintentionally, dropping items somewhere not reachable anymore, and so on.
With access to the sources, we were able to apply small modifications, which you will hardly notice, but do solve many of these dead ends. (If you do not want these modifications, just turn off the modern mode in the game preferences and they get disabled!)
We hope you will enjoy the remastered game! The original announcement is here.
The game is available for Andoid in the Play Store, and for Windows,Linux, and macOS on itch.io. As usual the iOS version takes a little longer, but is in the making!
Best,
Strand Games team