Oh, right, my bad! I'll get out my caulk and pitch.
Thanks. One or two ain't bad, but wait until they start procreating and mutating in the wild! Poetic mayhem I tell you!
(Hmmm… ----strokes beard---- That actually sounds rather nice. Carry on.)
Prince Quisborne pays respectable tribute to the boatiness quotient, but there are spoilers involved…
(Also the bulk of it is beyond the 2-hour mark…)
Having not heard anything back about a stuffed goat, I'm going to make a little plaque engraved with the words BOAT GOAT in Sumerian.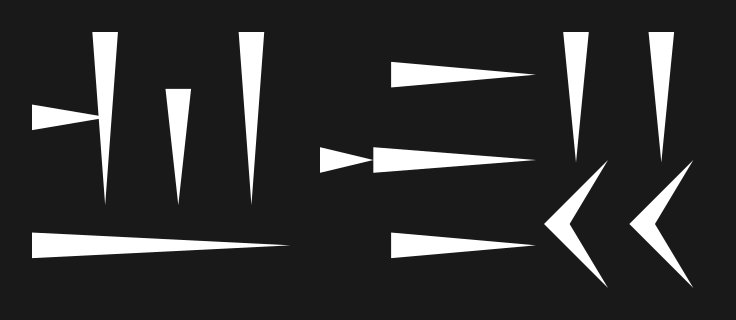 Originally pronounced MAH MAḪ (literally "the great boat" or "the great one of the boat"), which seems like an appropriate translation of the pun.
May I present…the BOAT GOAT.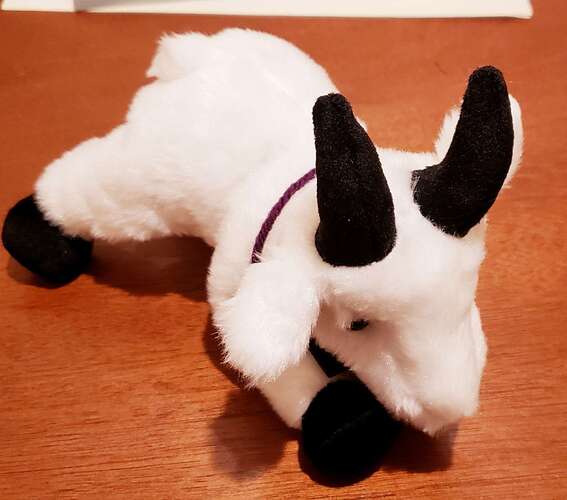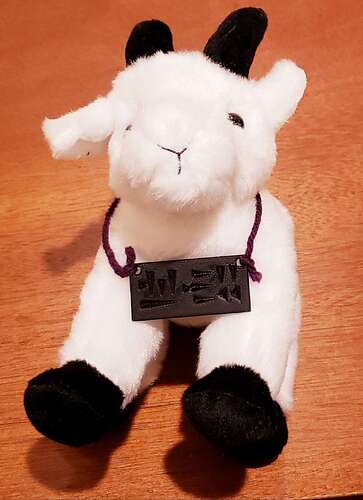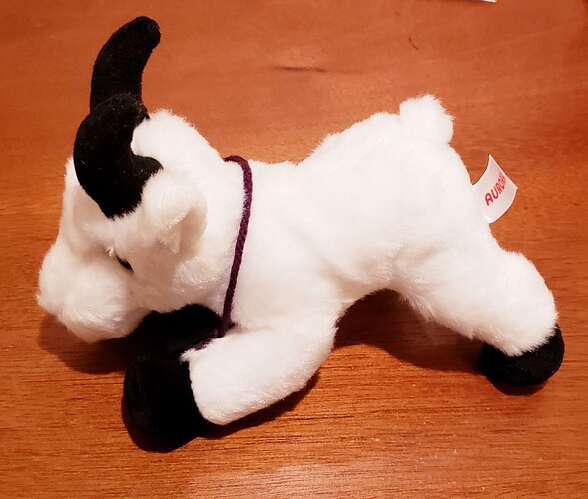 Still need to sand and paint the tag, but I want people to see what it looks like before the comp ends.
I totally missed this thread early on when I had Covid. So glad I belatedly saw it today! Well done everyone and especially @aschultz for starting it

It's… now an official Special Prize in the prize pool…


https://ifcomp.org/about/prizes
From IFComp's Prize Pool page:
The BOAT GOAT
This prize will go to the game with the highest sum of IFComp score + Boatiness Quotient. It makes sense to the people who devised this. Honest.
Hilarious!
Shanidar has part of the story where the tribe learns to make boats and rafts to travel a river and across a huge lake. 4? Or if boat-crafting carries some weight, 4.5?
If this is now official, presumably we need people to jump into the spreadsheet and suggest scores to be used for final calculations? Currently, only 9 out of 75 entries have a listed boatiness quotient.
Yes, people who have played all these games, please add the boatiness quotients! I haven't played most of them myself so I can't offer much.
Ugh! I'm sorry I let this drop and didn't open up the spreadsheet to people more active than I was. I had more to keep track of than I thought. Hooray for whoever copied it and opened it up for editing. I should have done that much sooner.
I'm wondering if a product of boatiness * final score might be better. I mean I know this is supposed to be for fun. But it'd be neat to have a balance of both and not have something win because it's a lot of one and not much of the other.
There's also some concern that the boatiness running from 1 to 10 is a wider range than the final scores which are probably 3 to 8.
(Also, maybe entries in the top 3 won enough awards, so they don't get this? I'm just spitballing here.)
Ahoy, mateys. Based on extensive observations and calculations with my sextant and astrolabe, I submit the following:
For any IFComp game:
BGI = [(N - R + 1) / N * (BQ / 10)] * 100
Where:
BGI = Boat GOAT Index
N = Number of Comp entries
R = Individual game's rank
BQ = Boatiness quotient
If I be doing my math correctly, the ideal score would be 100, where the game wins the Comp and also has a BQ of 10. (I be ignoring BQs higher than 10.)
Elsewise, in the spirit of "dead men tell no tales," I nominate Admirals Schultz and Stelzer to form a secret cabal.
Yarr.
I like it. More so, I guess, than the other version (score+BQ).
As the person giving the prize, I'll go with whatever consensus this thread reaches before the awards ceremony on Sunday.
How do you enter a game on the spreadsheet? I think Prince Q would qualify as a 7, though that can only be verified by other players playing well past the prologue…
Having played the full game, I'd agree that PQ merits a 7 (it's a high 7, actually, but not quite an 8).
Then we'd better get a move on! All the formulas require boatiness quotients, and we don't have enough.
I've scribbled stuff from this thread untidily into aschultz' spreadsheet.
Just under half the (non-withdrawn) entries have no opinion yet expressed on their boatiness – 36/74 entries still need a boatient within the next 22 hours.
Also, I submit submit for consideration level 13 – "the game medium is a boat" – although it probably wouldn't be admissible to IFComp.
(Closest I've found is this. Or maybe some sort of AR game where you have to visit GPS coordinates in soggy locations for clues to use in a textual interaction?)
For ones I've played that don't have a BQ yet…
All the Troubles - don't recall any boats
Antony & Cleopatra - I think it starts on a boat?
Codename Obscura - don't recall any boats
Finders Commission - don't recall any boats
Last Valentine's Day - don't recall any boats
The Little Match Girl 4 - I think there may be mention of boats? Edit: perhaps a 7? thanks to @DeusIrae for the reminder!
(Not marking these on the spreadsheet in case I'm forgetting something!)
Those all seem right, except for LMG4 there's a whole section on a spaceship, which I think for purposes of the rubric we're counting as equivalent to boats.
I'll try to fill in some proposed rankings tonight once my son goes to bed, since I played all the games!