Delighted to announce to my Intfiction pals that my book on the long strange history of interactive fiction (which I posted chapter by chapter on Substack and in the forums here during 2021) launched TODAY on Kickstarter. Find out how to reserve your copy now!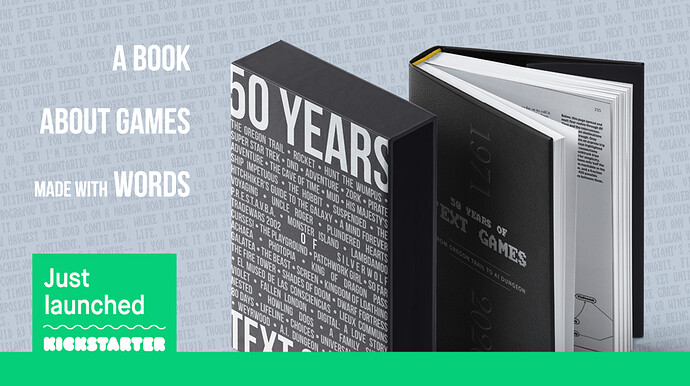 The book features:
The revised final version of each of the fifty game articles
650 pages and over 200,000 words of text game history
Professionally offset printed with quality paper and ink
For the hardback, a beautiful faux-leather and foil-stamped cover
A lengthy introduction on the pre-history of digital text games , including fascinating early experiments from the 1950s and 60s
An introduction to each decade capturing larger trends and movements
Custom maps and diagrams to reveal each game's structure
Extensive version and release histories for each game
A full index and research bibliography
Backer reward tiers with some awesome exclusive perks
If you're planning to back, it would be AMAZING if you could make a pledge by end of day TODAY, of ANY amount . Projects with early backers get boosted in the Kickstarter system.
There are tons more specifics on the project on the crowdfunding page , including on the really cool backer rewards available. Thanks, and I hope you'll consider joining me on this next phase of this project's journey!
–Aaron