Dear fans of interactive fictions,
I'm currently exploring Twine and Sugarcube, and I'm trying to change the appearance of a listbox area. I've found a problem I can't solve despite an internet search. I'm pretty sure the problem already has been addressed, though, don't hesitate to link the answer, maybe I did not find it because I'm not searching with the right words.
Here's what I get:


Right there all sounds good.
However when I hover my mouse on the listbox area here's what I get:


Of course I want to change the listbox area background color to something lighter.
I'm using css to modify. 'Select' object does something good while there's no hovering, and I've tried to use the same styling I used for text areas, but there's seem to be no 'select:hover' recognised object…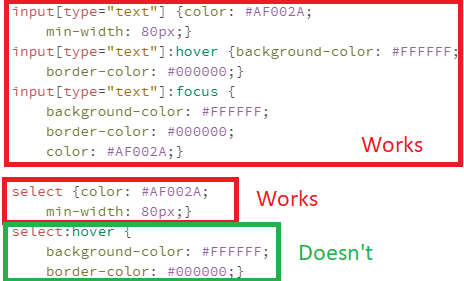 Does someone know what i'm looking for? (And does this someone be kind enough to share?)