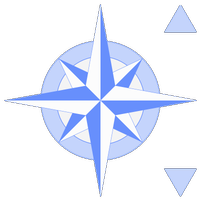 The Problem
Traditional IF typically uses compass directions; North, South, East, West etc. to navigate the game. This has problems:
Compass directions do not feel natural.

The location description is forced to mention the exits in terms of these compass directions, which often makes the text feel lumpy and awkward.

It's hard to write good exit descriptions without becoming repetitive.
Possible Solutions
1. Using Location Names
eg
go into the dining room
go to the main road
go into the toy shop
This works, but has the drawback of being tedious to type.
2. Using Choices
Inject navigation choices, so that the above appear as "clickable" choices.
Some problems with this:
Where story choices exist too, the list of choices can get too long.

For parser games, players are lead toward the choices rather than typing commands.
3. Using a Companion Map
If a visual map is given in the UI, it is possible to click on adjacent (or even remote) locations to navigate.
Clearly such a map would need to reveal locations only after they are visited or mentioned.
Problems with this:
The map would need to be visible on the UI in addition to the narrative. For large screens, this is not a problem, but for mobile devices screen space is too limited.
4. A New Navigation UI?
Traditional UI compass roses are used to navigate the N,E,S,W paradigm.
Could such a device be used for generic, non-compass movement? Perhaps a star shaped device labelled with the names of adjacent locations?
It would nevertheless still occupy significant screen space. Additionally many locations would benefit from name abbreviations, lest the text be too small.
Another problem is that the player has to continually switch from keyboard to mouse, then back to keyboard. Not a big problem, but it gets annoying unless there are also keyboard shortcuts - of which new players would be unaware.
5. Intelligent Completion
A twist on the idea of typing the entire location name, would be for the UI to detect, go ... or enter ... and automatically offer relevant text completions.
This would obviously require a custom text input box in the UI, and moreover, mobile users would not be able to use their familiar system virtual keyboard, using an in-game custom input area instead.
Nevertheless, the latter could offer a better class of auto-correct and game specific word completion than the system keyboard could achieve.
Discussion
Are there other ideas, better ideas?
Looking for a general solution rather than something that worked in a specific type or style of game.
This has been discussed before, but there weren't any real conclusions. Maybe because the answer needs help from the UI (as in most ideas above) rather than from authoring techniques. In which case, what would be the ideal UI facility?