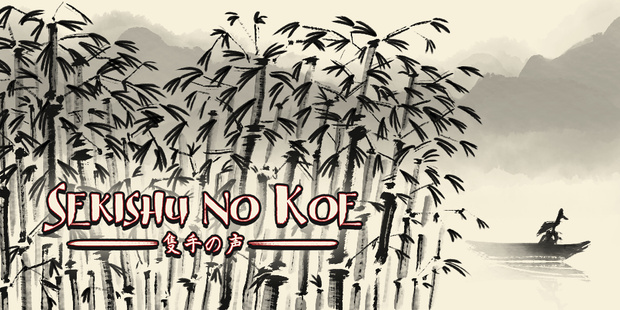 Hello everyone! I'm a game dev/artist/writer working on my very first, very ambitious interactive fiction called Sekishu no Koe (The Sound of One Hand). Here's a little blurb about it:
「隻手声あり、その声を聞け。」
"The sound of one hand exists; listen to that sound."
A curious monk — a fearsome warrior — a cheerful samurai.
Three unlikely companions find themselves traveling together through the mystifying lands of medieval Japan, surviving dangerous battles and magical encounters — despite their clashing personalities.
Destiny has brought them together — but ultimately you control their fate in this 40,000 words text-based adventure demo. With over 100 missable events, you're free to strike your own path.
This experience takes you through a unique version of late Kamakura-era Japan, on a journey through the eyes of three heroes. Your choices effect how they perceive the world and ultimately their fate.
My favorite feature of this project is the accompaniment of dynamic audio! I wanted to do everything I could to make you feel present in the world.
There's a plethora of options for you to customize your reading experience how you prefer. I knew from the get-go that I wanted this text-heavy game to be as accessible as possible so please enjoy your choice of themes, fonts, text spacing, and more.
Even though this is a demo, it's a long one so take advantage of the auto-save feature and take breaks if and when you need.
The beta release will be coming soon and with it more features, story, artwork, etc. Currently half of the first of seven chapters is available to play for free on it's page at Itch.io.
---
I am looking for players but I'm also seeking critical feedback! If you're a dev/writer, I'd really appreciate your take on how the project is developing, what its weak points are, etc. Anything at all I can do to make my story stronger.

Thank you all for your time and I hope your enjoy!