Hi Everyone!
We have tallied all the votes and looked at all the stickers sent, and the results are in!
First, we would like to thank everyone who have participated in this first edition of the SeedComp!, whether it was submitting a seed, creating a game, reviewing the entries, or filling in the voting form.
During the past months, we saw 69 seeds being submitted to the Planting Round by 41 unique creators, while the Sprouting Round saw 18 entries from 17 authors. As for the voting, 31 lovely people filled in the form, 121 stickers for the games were submitted, and 29 stickers were granted to the seeds (they can be viewed here).
It was incredible to see the amount of enthusiasm for a small comp that came together on a whim. We couldn't have had this event happen without each of you!
Thank you!
~~ ~~ ~~ ~~ ~~ ~~ ~~ ~~ ~~ ~~ ~~ ~~ ~~ ~~ ~~ ~~ ~~ ~~ ~~ ~~
SeedComp! Organisers Stickers!
Four Special stickers were created by the organisers this year to acknowledge some milestones :
The Seeder, for the user who submitted most seeds during the Planting round
The Farmer, for the user incorporating the most seeds in a game
Seed of All Trades, for the most used seed
The Broadcaster, for the most registered seed
And here are the winners!
The Seeder
Charm Cochran, for submitting 10 seeds!
The Farmer
KADW, who incorporated 11 seeds in the entry Cozy Simulation 2999
Seed of All Trades (tie)
Regions of the Acid Factory List of Dreams by KADW
No Exit Drones and Groans by Charm Cochran
music by Sul_iac
The Broadcaster
~~ ~~ ~~ ~~ ~~ ~~ ~~ ~~ ~~ ~~ ~~ ~~ ~~ ~~ ~~ ~~ ~~ ~~ ~~ ~~
SeedComp! Nomination Results!
Seed Awards
Most Innovative Seed
Room; Closed Door by Charm Cochran
Best Seed (tie)
The Witch's Bakery by Ramona G.
Prufrock by Amanda Walker
Game Awards
Best Seed Hybridization
Best Seed Subversion
In a minute there is time by Aster
Most Sequel-Worthy
prepare for return by MuffiTuffiWuffi
Best Puzzles
The Magic Word by bjbest60
Best UI/Visual
Best Prose/Writing
After the Accident by Amanda Walker
Best Technical
In a minute there is time by Aster
Best Story
After the Accident by Amanda Walker
And finally…
The Best Overall is awarded to free bird. by Passerine !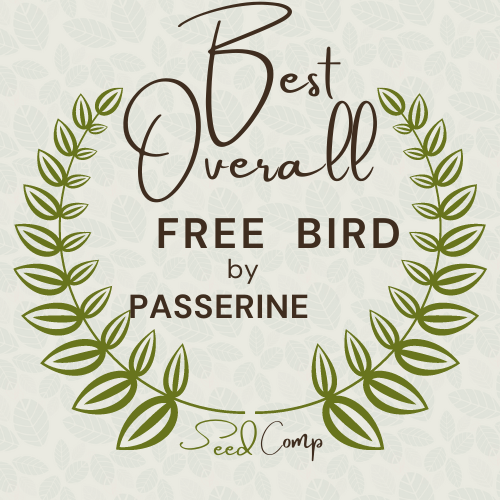 Congratulations to all winners!
~~ ~~ ~~ ~~ ~~ ~~ ~~ ~~ ~~ ~~ ~~ ~~ ~~ ~~ ~~ ~~ ~~ ~~ ~~ ~~
All awards and stickers (including the ones submitted by voters) were each given a separate graphic (such as the one above). Participants can find and download them form this Folder.
(If there is a typo, please let me know, and I'll fix it

)
You can find all Seeds submitted to the Planting round here, and all Games created during the Sprouting round here or on the IFDB. If you are interested in seeing the breakdown of the votes, you can find those in the Excel Sheet. The Sheet also includes all the awarded stickers !