Please peruse the entire Code of Conduct for more detail on what we expect from our community. Here are the major points to keep in mind:
---
This is a Civilized Place for Public Discussion
There are millions of other forums and social media sites online for toxic arguments and debate. While you're here, please respect our community and make this a constructive and welcoming resource for everyone.
Be Agreeable, Even When You Disagree
You may wish to respond to something by disagreeing with it. That's fine. But, remember to criticize ideas, not people. Please avoid:
Name-calling.
Ad hominem attacks.
Responding to a post's tone instead of its actual content.
Knee-jerk contradiction.
If You See a Problem, Flag It
Click the three dots below the post…



Click the flag…



Let us know what's happening.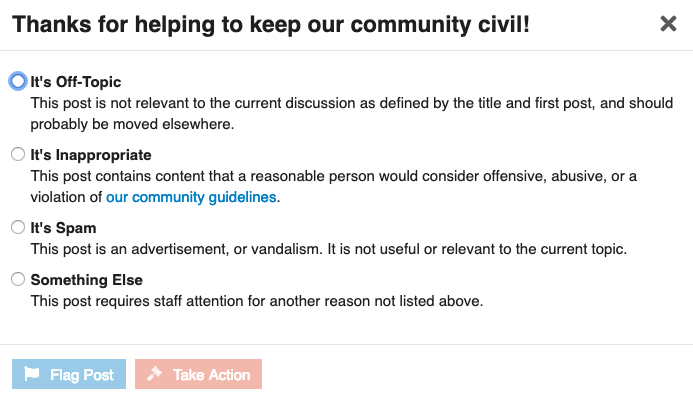 Always Be Civil
Don't post anything that a reasonable person would consider offensive, abusive, hate speech, violence, and don't advocate for any of these things. By the same token, don't advertise/recruit for any group or movement involved in the same.

Respect each other. Don't harass or grief anyone, impersonate people, or expose their private information.

Intfiction.org promotes a broad definition of Interactive Fiction. Don't claim a type or style of game already accepted by the community doesn't belong. If in doubt, ask questions or see if it has been previously discussed.
Regarding Off-site Harassment
The Staff of this forum take online harassment very seriously. While it is not our specific job to police other websites and social media, verifiable threats, egregious examples of hate-speech, and campaigns of harassment targeted at any member of the IF Community at-large - whether on this website or any other - may be grounds for revocation of posting and/or membership privileges, temporarily or permanently at the discretion of forum Staff.
Keep It Tidy
Make the effort to put things in the right place, so that we can spend more time discussing and less cleaning up.
Post Only Your Own Stuff
You may not post anything digital that belongs to someone else without permission. A review with screenshots is fair use, but don't provide access to unreleased art, game files, or data that doesn't belong to you. Don't post access codes, hacks to disable copy protection, or in any way give access to commercial games or other media or material that violates the rights of the creator.
Please Don't Waste Time
If you are coached or given requests or instructions by Staff or Moderators, we're happy to discuss the situation with you privately rather than publicly. Ideally we want to keep you as a member and and most issues only require a slight behavior modification to correct. If Moderators ask you stop doing something that bothers someone, the easiest outcome is to just stop doing that and move on to discuss something else less inflammatory. You don't need to change your mind or opinions and you are likely not going to change anyone else's by arguing. "Agree to disagree" is a valid end to a discussion.

If you don't understand or disagree with moderation requests, we can talk it out and we're on everyone's side. That said, lengthy debates and arguments will not be sustained. Staff and moderators don't have time to listen to a court case about why you personally should be allowed to continue a behavior that is against the Code of Conduct or not conducive to community well-being. If you wish to argue a technicality and we reach an impasse, the easiest solution is to restrict one member who refuses to abide with the CoC rather than rewriting rules or coming up with reasons to allow an edge-case.

We have no desire to actively censor people nor restrict "free speech," we just want everyone to get along. If this is not possible, we reserve the right to invoke disciplinary actions such as removing public posting privileges or suspension of accounts temporarily or permanently as necessary. As stated, there are many other forums online specifically where you can express and debate opinions and issues that don't directly relate to IF.