Hi,
I'm new here. Apologies that my very first post is a self-promo. I have kept to myself when it comes to interactive fiction, but I want to change that now.
I'm the person behind egamebook.com, which is nearing the first public alpha (after 4+ years of development), and so is the first book built on the system. I understand that Yet Another Choice-Based IF System

…doesn't seem very exciting. Let me try to persuade you it actually kind of is.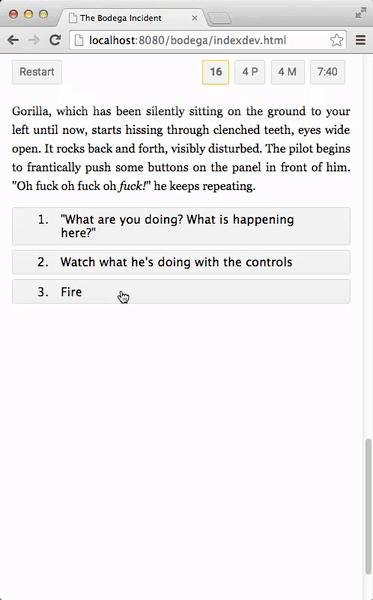 Here are the attributes that I think make egamebook.com stand out:
It builds the text paragraph by paragraph, giving a better impression of 'writing your own adventure'.

It's being carefully designed from the User Experience perspective so that even newcomers to the genre understand what is expected from them (buttons to click, infinite scrolling, stats that go 'blink' when updated, etc.).

And most importantly: it allows for infinitely more complex scripting than what I have seen in any other choice-based IF so far. This is explained at length at egamebook.com but here's the basics.
[list]
[*] The programming language used is Dart. It means you can do simple arithmetics as in JavaScript or Lua or custom scripting languages, but you also have the power to do really complex stuff.

This means you can use libraries and testable, structured code. You can build logic into your game that you would find in much more complex games. My dream is to allow you to play something-like-Skyrim or something-like-Red-Dead-Redemption, but instead of making micro-choices like "go forward", "strafe left" etc., you make more meaningful, high level choices ("attack dragon", "hide and wait") — and instead of experiencing the world through 3D graphics, you experience it through (generated) prose.

My pilot book utilizes these libraries right now (so it's not just some wishful thinking):
[list]
[*] AI library for NPCs.

ZIL-like library for free-roam exploration.

Natural language generation system for generating naturally-sounding reports (instead of "You hit lizard for 3 damage. Lizard hits you for 1 damage." it constructs sentences like "You manage to break the lizard's front-left leg but it immediately bites you back.").

Reasonably complex spaceship combat system with things like subsystem targeting, positioning, and the like.

Things that are almost ready but will not make it to the first book: Box2D physics, neural networks, "director" AI that intelligently paces the book according to player's choices.
[/:m]
[] This, to me, is exciting. I always loved somewhat open-ended, simulated world with strong narrative, but these things have been mostly exclusive to AAA game development. No wonder. You need millions of dollars to create a believable 3D open world. With a gamebook, you still need a lot, but it's doable in one person.[/:m][/list:u][/:m][/list:u]
Now here's what I'd love to ask of you. This system is still not ready for being released, nor open sourced. I don't want to release yet another half-baked attempt. I want to finish this, especially now that I know it's technologically possible and that the (mobile) web is ready.
But I also want to get early feedback from people like you — authors and/or people-like-me-who-are-really-into-these-kinds-of-things.
I seek honest answers to these questions:
Is this even something that sounds remotely interesting?
Looking at the images here, do you thing you'd enjoy playing The Bodega Incident (the first book)?
Would you play something like this on the go (on mobile phone)? On a tablet? On a PC?
Who do you think would be most interested in playing something like this?
Looking at the screenshots, what would be the one thing you'd change or improve? (Don't get sucked into details, just conceptually.)
As an author, would you be interested in writing a game in this system?
Sorry, I can't give you a playable demo at the moment because it's currently broken (I know how to fix it, it'll just take some time) and because I don't yet have a nice standalone "demo chapter" of the book (I work on the book in its entirety because decisions from anywhere can and should affect events anywhere else).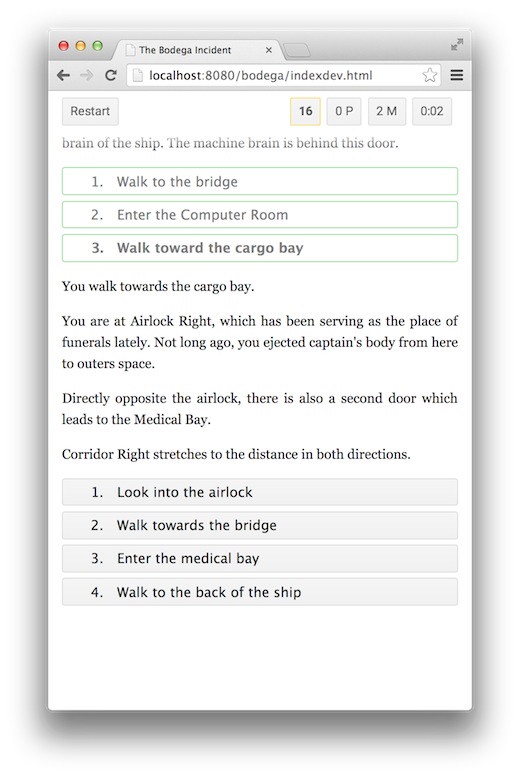 Thanks for reading this far!