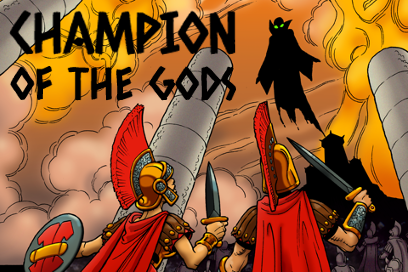 We're proud to announce that Champion of the Gods, the latest in our "Choice of Games" line of multiple-choice interactive-fiction games, is now available for Steam, iOS, and Android. It's 40% off until July 24th.
choiceofgames.com/champion- … hp?src=ifo
In the battle to save your people, will you defy the gods? In an ancient world where myth is reality and fate is relentless, your destiny will lead you to secrets no mortal should ever know.
"Champion of the Gods" is a thrilling 217,000-word interactive novel by Jonathan Valuckas, where your choices control the story. It's entirely text-based–without graphics or sound effects–and fueled by the vast, unstoppable power of your imagination.
As you fight your way through a harsh landscape inspired by Greek myth, you'll challenge monsters, soldiers, and even gods. Win allies with your humility, your haughtiness, or your powers of deception. Enjoy gifts from the gods, or refuse them all and face the consequences.
Will you earn favor from the goddess of love, or make the god of war your protector? Can you escape a watery death without divine intervention? And when you finally learn the truth of your destiny, will you overthrow the ones who made you, or will you become the Champion of the Gods?
Explore a rich world inspired by the ancient myths.
Use divine gifts to embolden your allies, and control your enemies.
Peer into the future, the far distance, or the hearts of your foes with second sight.
Receive a horoscope tailored to your character's unique personality.
Delve into romances, or play the game without them–the choice is yours.
Play as male or female; straight, gay, or bi.
We need your support to continue delivering our games on Steam. Our goal is to release our entire catalog of interactive novels on Steam. Based on the extraordinary performance of Choice of Robots and The Hero of Kendrickstone, both which made it onto Steam's front page this year, Valve has allowed us to ship a handful of additional games. We'll need to continue to deliver outstanding results to prove that interactive fiction can be successful on Steam.
We're asking all of our fans to follow us on Steam. Even if you don't use Steam that much, it will be a big help if you sign up to follow us there, because the more followers we get, the better visibility we get on Steam's curator list. (Our goal is to hit 3,000 followers for our Steam curation page; we're about 53% of the way there as I write this!)
When you follow us, you'll see our games and our recommended games right on your Steam home page. It's free, and it's a big help to us, so follow us today!
We hope you enjoy playing Champion of the Gods. We encourage you to tell your friends about it, and recommend the game on StumbleUpon, Facebook, Twitter, and other sites. Don't forget: our initial download rate determines our ranking on the App Store. The more times you download in the first week, the better our games will rank.