I've emerged from the caves back into the sunlight, ready to tell you about by first IFDB Spelunking adventure! The idea is to use the "10 Random Games" link to generate a set of 10 random games, and then make a good-faith effort to play them. If you can't play them, or they're too awful to play them through, that's okay. But this time I managed to finish all these ten games. The concept comes from Joey Jones; he and Sam Ashwell actually made games documenting their spelunking expeditions. That's too much work for me; instead, I'll write a quick report here! (And I wrote IFDB reviews too.)
If you want to use this topic to announce and/or report on your own spelunking expeditions, feel free to do so.
Here was my list: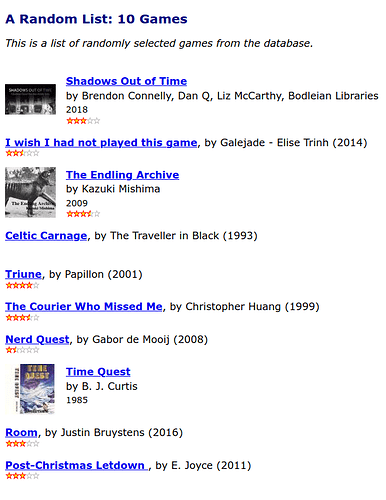 And here's what I found, ordered from worst to best:
Nerd Quest. A puerile, half-baked and very small adventure written in a primitive home-brew parser system. Not recommended.
Room. A badly written choice-based piece about depression. Pretty bad, but at least it tries something worthwhile, which is why I rank it above Nerd Quest.
The Courier Who Missed Me. Christopher Huang has written good interactive fiction, but this SpeedIF is little more than an illogical puzzle.
Shadows Out of Time. A choice-based (originally game-book PDF) horror game about waking up in Oxford's Bodleian Library and finding it deserted. Too reliant on knowledge of the original building to be fully appreciated by anyone but an Oxonian, and there's not much of a story anyway.
I wish I had not played this game. A linear exploration of the American Dream; a simple morality tale telling you that there are more important things than money and a great career.
Post-Christmas Letdown. A charming little SpeedIF about the morning after Christmas. Short and sweet, some simple puzzles that don't outstay their welcome.
The Endling Archive. Ranks about as high as Time Quest, though it couldn't be more different. The Endling Archive shows us the germ of a really good and innovative idea – telling a poignant story in the form of a database that gets slowly revealed – but it's too short and loses itself in an uninteresting sci-fi frame story.
Time Quest. The oldest game in the list. This parser game definitely lacks some modern conveniences, but its expansive world, simple & fair puzzles, and (despite some deaths and one unwinnable situation) relative lack of cruelty nevertheless make it still fun to play.
Celtic Carnage. Ranks about as high as Triune, though, again, the games are very different. Celtic Carnage is an adventure game of medium to high difficulty with a detailed plot and an impressive reliance on Irish mythology. I used a walkthrough to solve the tougher parts, but I definitely enjoyed my time with this game.
Triune. A very interesting parser exploration of abuse, magic and womanhood. Multiple endings depending on your choices in a fairy tale world built around different archetypes of Woman. Thematically things could have been tightened, and the puzzles could have been smoothed (especially since they're not really the point), but there's a boldness of vision and seriousness of purpose that I admire.
I really enjoyed my spelunking and am tempted to start on a new expedition very soon!