Once more, I've added the new year's entries to my Excel spreadsheet listing all IFComp games by development system back to 1995. It also includes the place in the relevant comp and where available (i.e.: for 1999 onwards), average score, number of votes received, standard deviation, and Miss Congeniality outcomes through to 2022, and a separate tab with all the Spring Thing games.
The number of IFComp games by development system for this year is: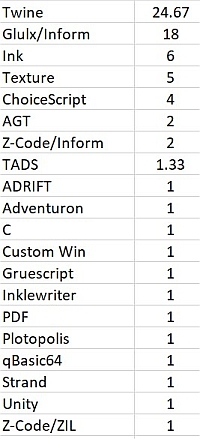 Corrections welcome.
-Steve
NOTE: The spreadsheet was updated on 4 October to include the software versions used for games created in Inform, TADS, Alan, ADRIFT and Quest.