September 28: The last date that authors can upload their games to the competition site. Everyone starts counting down the hours, eager to explore all the new IFfy goodness.
October 1: The games are released to the public, and the judging period begins.
November 15: All votes must be submitted by the end of the day. The competition results are announced shortly afterwards. Prize choosing and distribution begins.
There are two tags that can be applied to messages on this forum: #ifcomp-2022 for general overall Comp discussion and #ifcomp-2022-game for reviews and discussion specific games for people who like to filter out reviews and avoid spoilers or search specifically for discussion in a specific year.
The Colossal Fund and physical prize pools are open for donations. Even if you don't wish to donate monetarily, thoughtful physical prizes are also appreciated. Many people have offered used books they have - such as Aaron Reed's Inform 7 tome which is out of print and difficult to find. I've got a copy sitting on my shelf I might need to offer… Or if you've got a Wishbringer stone cluttering up your kitchen drawer…someone might love to have it!
If you don't like packing and shipping, many will offer new books or other artifacts by using a website to ship directly. In past years, people have even created custom fragrances through artisan perfume websites as a prize. Your creativity is the only limit! You can use print-on-demand to make and ship something remotely like a coffee mug or a t-shirt or shower curtains with a game's logo. I made coffee-cup feelies for my own game using RedBubble and sent them as gifts, and there are many options.
You can offer "services" such as a custom artwork or music by you for the person who chooses your prize. These can be game-related or not, such as character artwork or music for the author's entry or even their next game…
If you use Amazon you can set up the Interactive Fiction Technology Foundation as your charity so every purchase donates a bit to IFTF if you purchase through the Amazon Smile site (same login as your Amazon account) AmazonSmile: You shop. Amazon gives. Here's what I've done just buying toilet paper and USB cables over the years! If you order via Amazon Smile this happens automatically.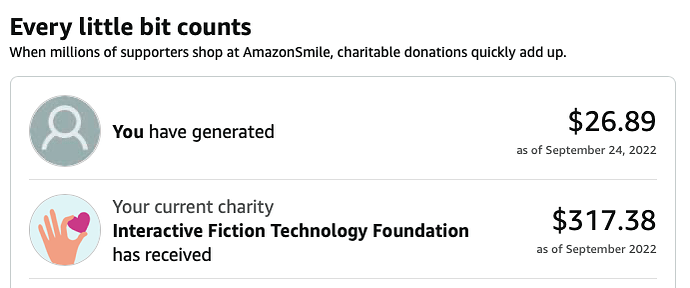 AmazonSmile provides general donations to IFTF that keeps many services you enjoy funded and running - this forum, IFComp in general, IFDB, IFWiki, IFArchive, and many more.
The Colossal Fund is a separate donation specifically for IFComp that the IFTF curates. Use the link on the IFComp website above to donate directly to the Colossal Fund.