There are two specific IFComp 2021 tags which can be applied to messages as appropriate. Click in the optional tags box during message creation (you can type ifcomp2021 to narrow the list) and add either:
ifcomp2021
or
ifcomp2021-game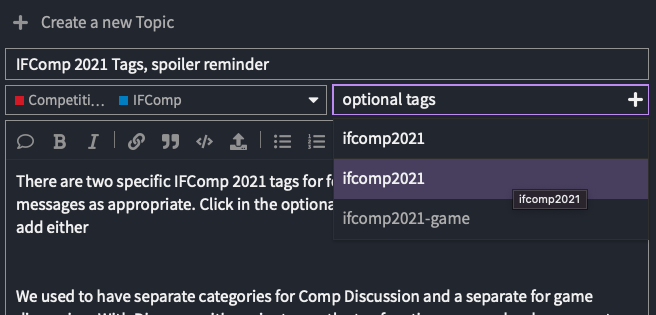 Use ifcomp2021 for general comp discussion, and ifcomp2021-game when discussing or reviewing details of specific games.
We used to have separate categories for Comp Discussion and a separate one for game discussion each year. With Discourse, it's easier to use the tag function so people who may not want to see game discussion or spoilers until after playing can filter out those messages, or narrow to just 2021 messages.
Regular forum users will have access to update tags (and title) of any message if the pencil icon appears next to the thread. Click the pencil to add or remove tags and confirm with the check mark, or cancel with the X.
Please remember to tag your spoilers!
Highlight spoiler text, click the gear icon and choose "Blur Spoiler" or surround it with
[spoiler]Text here...[/spoiler]
using square brackets. This will blur your text like so.
You can blur multiple paragraphs, but if you manually type in the tags, put each one on a separate line before and after the text.
[spoiler]
This is how you blur...

Multiple paragraphs of text.
[/spoiler]

You can also use a "Hide Details" tag...

To fold long sections of text behind a clickable link.

Which is done like this:

[details="You can also use a "Hide Details" tag..."]

To fold long sections of text  behind a clickable link.

[/details]


The text between the quotation marks is the text of the link. It will default to "Summary".