I just started testing out twine to make a story and I will like to know how I can link various choices/passages to one passage.
for example:
passage 1: Have 3 choices leading to 3 different scenes/outcomes in the game
Those 3 outcomes end up merging in the same to passage 2: that have 2 choices leading to 2 new outcomes
those 2 outcomes again merge into the same, passage 3. I want this passage to lead to 2 different outcomes / new passages but depending on the choices you had made in the other passages since this passage won't have any choices.
this screenshot will explain it better than me.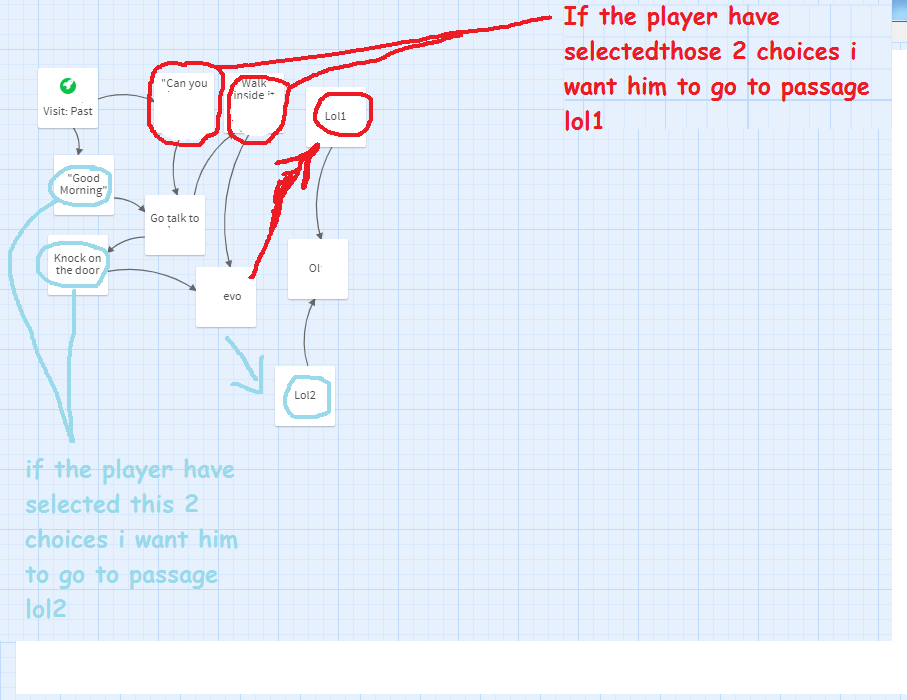 I have added
(set: $seen1 to false)
(set: $seen2 to false)

in the startup story, then proceed to add (set: $seen1 to true) and (set: $seen2 to true)  at the end of the passage choices so that when I put this in the evo passage the game send me to either Lol1 or Lol2 --> 
(if: $seen1 and $seen2)(link-goto: "Lol1")

I have don the same to the variables for lol2, the problem is that the game doesn't continue and neither shows the passage link to the player even if he has chosen those choices...

Sorry if I can't explain this better