We're proud to announce that our newest game, Hollywood Visionary, is now available for Steam, iOS, and Android. It's 40% off during launch week.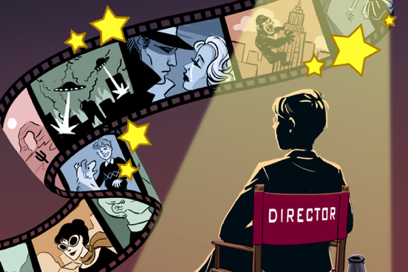 Make the movie of your dreams amid the glamor and romance of 1950s Hollywood!
"Hollywood Visionary" is a 150,000-word interactive novel by Aaron A. Reed, where your choices control the story. It's entirely text-based–without graphics or sound effects–and fueled by the vast, unstoppable power of your imagination.
As head of your own movie studio, you call the shots: hire Hitchcock, seduce Garbo, build your studio into an Oscar-winning powerhouse or star in a B-movie train wreck. Control everything about your production, from genre to casting to building up buzz.
Do you have what it takes to become a Hollywood visionary?
Conquer the movie biz as a writer, director, producer, actor, or editor
Banter with Hollywood royalty like Orson Welles and Greta Garbo
Choose from dozens of genres and modifiers to make your film unique
Five possible endings to discover
Find love or throw yourself into your art: extensive but optional romance plots
Win an Oscar, create a cult classic, or languish in film obscurity
Will you name names for the blacklist, or risk everything to uphold your artistic ideals?
150,000 words of content
Flexible gender presentation: independently control your pronouns, appearance, titles, and romance options