Twine Version: 2.3.14
Story Format: Sugarcube 2.34.1
Hey guys! Was wondering if you had any suggestions for this. I'm still fairly new to Twine and extremely noobish when it comes to coding.
Currently I'm working on a project that is just a static choose your own adventure story. No fancy mechanics or anything just a branching path story. The kind of stuff you'd find on places like writing.com in their interactive section.
The main reason i started making it is BECAUSE Writing.com became an absolute dumpster fire. But one major feature their website had that was really nice and helpful was a story chapter map that was auto-generated by the site that made it easy for people to be able to navigate longer threads and hop to the place they wanted to go. It looks something like this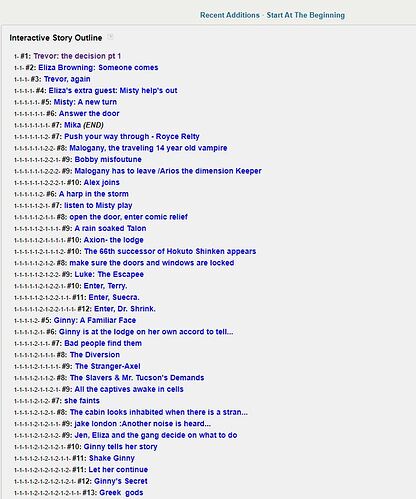 I couldn't immediately find anything when i looked but feel like I can't be the only one that's wanted something like this and wondered if anyone knows of a pre-existing, publicly available code that does something like this, or if someone might be able to suggest a way that a newer user might be able to implement it. If its not possible or too hard for someone of my current skill level I wont be surprised, lol.
Basically all i want it to do is be something that can auto-generate links as new passages are added and title the links automatically by the title of that passage chapter, and organize them into an expanding list like shown in the image. (as well as a way to exclude certain passages from being auto generated into this so it doesn't try to put stuff like StoryMenu or StoryInit in the auto-generated outline)
Thoughts?
edit: Whoops, didnt mean to do that box lol