You all make this place what it is!
I wanted to re-iterate here how awesome our community is at getting along and being overall very low-maintenance! We have four Staff members who are volunteer and aren't able to monitor the Forum 24/7 and there is a vast and ever-growing amount of reading material here that would be a Sisyphean task to keep up with without help.
We need your help when things go wrong.
Since we have members in every populated time zone, we can receive spam or troll content at any hour of the day. If you see something go wrong, let us know by clicking the Flag icon under a post.

This is the best way to alert Staff that something needs attention. Don't reply or feel like you need to get involved. Staff will be notified, and that'll be the first thing we look at next time we're on.
If something is offensive, and it's already flagged, flag it again. If a post gets flags from three separate users it will automatically be hidden until Staff reviews it. When you flag a post, you'll get to choose a reason: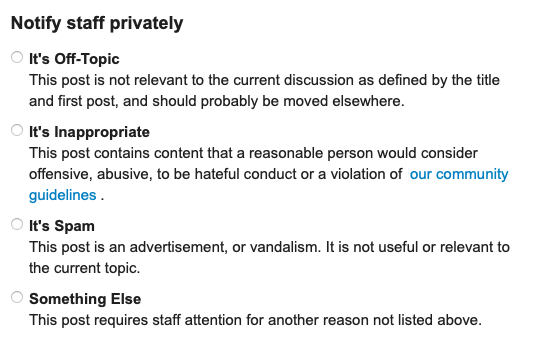 You may be asked to enter notes about why you are flagging. This helps us if it's for an unusual reason, especially for a "Something Else" flag.
Both the "It's Inappropriate" and "It's Spam" flags will count against the member's trust level if Moderators agree and sustain the flag (if the member is still around after moderation.) The "It's Off-Topic" and "Something Else" flags are intended informationally and won't hurt the member if Staff agrees with the flag and takes action.
Thanks again to all of our members for making this a constructive and friendly place to discuss IF!