I'm looking for a tool that probably doesn't exist, but I'll throw it out there anyway.
I'm finding it helpful to start with a world map, with all the locations and directional connections between them. Then I'm going through and writing up descriptions for all the locations, then actors, objects, and scenery in those locations, and finally the logic for tasks that need to be done to progress.
For that first step, I'm currently using Inkscape. This is what my world map looks like for a small game I'm using to test an experimental IF language and engine: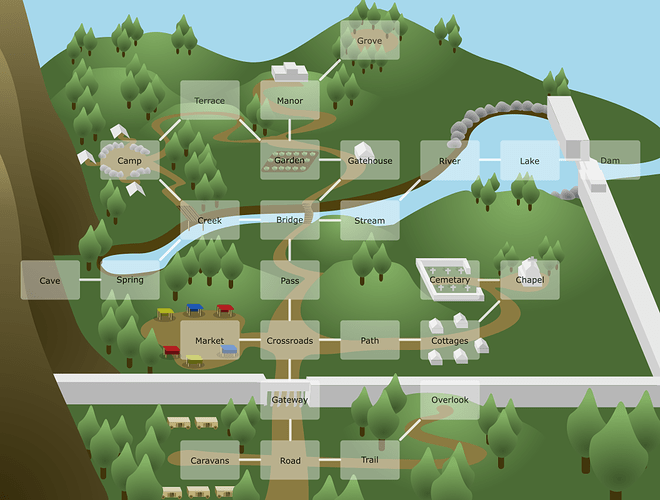 (Please excuse my crappy artwork.)
I'd like to replace Inkscape with a more special-purpose tool. It's fine for doing the background image, but I'd like to be able to create that connected node graph of rooms in something more appropriate, with background image still visible behind it. Ideally, I could click those rooms and a large text entry area would pop up where I can enter the description. And Ideally, this would all be saved in some kind of structured format that could be transformed into another format (stub code for the game). I'm imagining something similar to how a UML class diagram is saved in XML, and then XSLT can be used to translate that into any language that supports classes.
Does anything like this exist?