So, this game "The Making of: The Best of Both Worlds" is disqualified.
Someone got into my attention about the troll nature of the work, and possible offensive slurs. But… the author just make it very easy for me: he updated the game with new content, and that's not fair for the other competitors. Take a look at this extract from the external site where the game is allocated:
Finished within four hours of writing, with approximately an hour of planning - more time spent on that would've helped. Oh well. Very loosely based off someone I know. Entry for the La Petite Mort category, Ectocomp 2019.

This is supposed to be a haha meta storygame but I'm going to preemptively say that it's not particularly funny. Follow Cian as he enters a spiral about writing a choose your own adventure in four hours, while lamenting a recent break-up. There's… not really many endings but a couple pathways you could take.

HEY THERE. FOR THE ZERO PEOPLE WHO WERE EAGERLY AWAITING FOR THE NEW AND IMPROVED STORY OF CIAN, WE'RE FINALLY BACK. WHICH MEANS IT ACTUALLY TOOK JUST A BIT OVER FOUR HOURS TO MAKE THIS THING. BAM: DISQUALIFICATION? BOOM.
You got it man, you got it.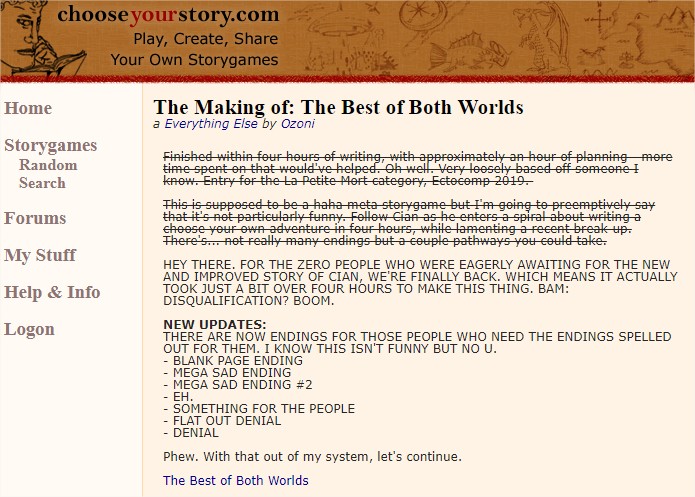 Anyway, I think next year we would have to make a harder rules, or more explicit ones. This year I have seen various attempts to test the limits of the comp. Or maybe just some FAQ with clarification on the spirit of the comp. I would hate to harden the lighthearted spirit of this event.
Thanks!