Our default theme is pretty awesome, but did you know there's a dark version? If you click the hamburger menu on the upper right, there are other themes you can select.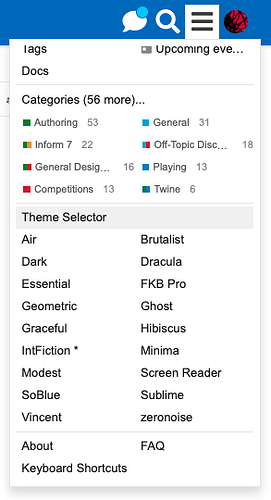 Dark is the basic theme with an easy-on-the eyes reversed color scheme.
Like dark themes but want something a little different? Try Geometic or Vincent. My favorite is SoBlue, though Dracula was my jam for a while. It's dark but with a slightly thicker font.
Need bigger text with serifs? Try Minima. Aesthetically pleasing soft colors? Hibiscus, Essential, or Graceful
Less clutter? Zeronoise, Modest, or Sublime.
Wanna feel like an 80's hacker surrounded by neon? Take a look at Ghost!
Just want no frills and text? Try Brutalist - especially if you like to filter things by category or tag, you can click anything in the topic list for instant filter.
Want a message preview inline kind of like Mastodon, Twitter or Facebook? Look at FKB Pro or Air.
If you're a whiz with CSS and think you could make a cool forum theme, we're happy to take a look at it and make it available as long as it's not too identical to another theme and doesn't do strange things on the page. If you host your theme on a GitHub, we can access it and make it a part of the board. A basic tutorial and info is available on Discourse Meta (the forum about this forum software):