Let's look back to the golden age of point-and-click adventure games. I do not want to talk about games of today, or even of recent memory, because I don't want to risk throwing cold water on active development. I propose that we consider King's Quest 8: Mask of Eternity the cutoff.
---
In Scope:
Any game released on or before November 24, 1998
---
I will blur spoilers, since the community has made them accessible! Thanks to everyone–players, concerned members, and admins/mods–who contributed to solving this problem. Happy Disability Pride Month!
---
For whatever reason, this morning I recalled the "climactic" conclusion of The Beast Within: A Gabriel Knight Mystery. In its day, it was my obsession. I played it whenever I got the chance and loved the Bavarian setting–accurate or not.
Reviewers were critical of Grace's actor, but her performance didn't diminish my experience.
The FMV graphics were truly a treat. I was a huge Jane Jensen fan, and The Beat Within was one of my favorite games in recent memory. However, the final moments of the game were a crushing disappointment. The opera scene held so much promise. I loved the setting, the rationale behind it, and the preparation efforts. Unfortunately, the game ends in a dingy basement that, for whatever reason, is divided into a grid of nearly identical rooms, some of them containing locked doors. It was a crude maze in other words, and it required a gameplay style completely different from the rest of this conversation-based exploration game.
The final moment of play involves clicking on a leaping wolf, in motion. I really dislike games that suddenly require reflexes after a sizable portion of play without this requirement. I was amazed–in a negative sense–at what seemed a drastic shift in play and narrative technique.
How about it? What are some memorable moments in which a point-and-click game let you down?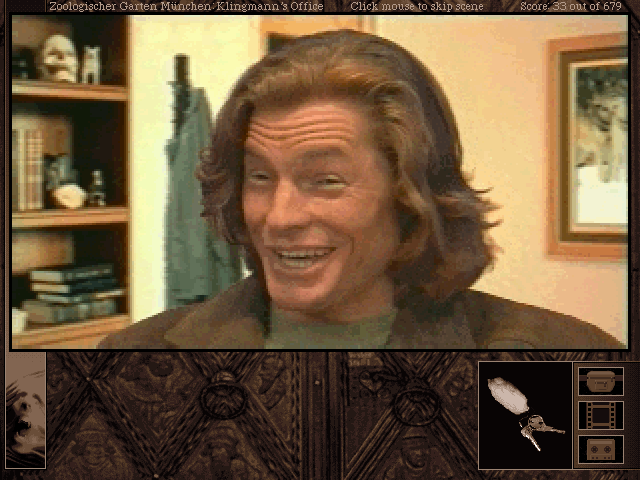 [image description: a thirty-something man with reddish hair smiles broadly, winking. He looks rather silly. The player would recognize him as Gabriel Knight.]


[image description: Two persons look in the direction of the camera. The two, a man and a woman, are dressed in formal wear. The man wears a tuxedo with matching patterns on lapels and bowtie. The woman wears a dark green dress with exposed shoulders. The player would recognize the pair as Kriminal-Kommissar Leber and Grace Nakimura.]