With the Dynamic Duo nowhere to be found and super-criminals running amok, it's up to you, citizen, to be Batman for a day and serve justice to those unscrupulous fiends. Explore key locations in Gotham City, match wits with Batman's fearsome rogues' gallery, figure out the villains' clues, all the while trying to unravel the mystery of who you are and why you've apparently been tasked with saving the day.
Can you cheat death with naught but your wits?
Can you evade devious traps?
Can you save the Dynamic Duo before it's too late??
Answers in one minute! But here's a clue: the worst is yet to come…
Bringing Batman to the small(er) screen is the new Batman 66 interactive adventure! Prepare yourself, citizen, because this homage to the iconic TV series features the return of Gotham City, its Caped Crusaders, and their infamous rogues gallery, all in one electronic game! Explore Gotham from the Batcave to the infamous headquarters of the United Underworld, and brave the devious machinations and contraptions of the city's foulest villains! For long-time fans and newcomers alike, this game is sure to return you to that colorful, absurd and wonderful world of Batman!
Try it out! Have fun! And if you'd like, leave a comment about your experience in Gotham or even about your memories of the TV series-- or any Batman property! Who's your favorite villain? Which show/movie/book introduced you to the world of Batman? Feel free to share and celebrate these characters as we celebrate the release of the upcoming feature film, The Batman!
Play it here: Batman 66 - Details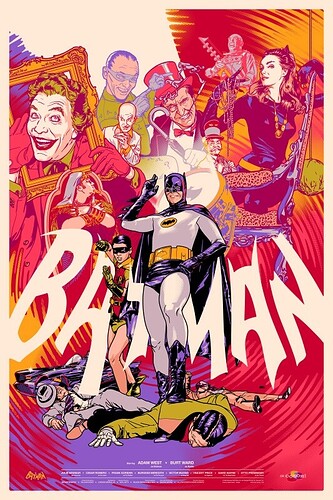 (Illustration by Martin Ansin)