Puzzlon is a dependency chart (+ game solution visualisation) creation tool, hosted in the browser.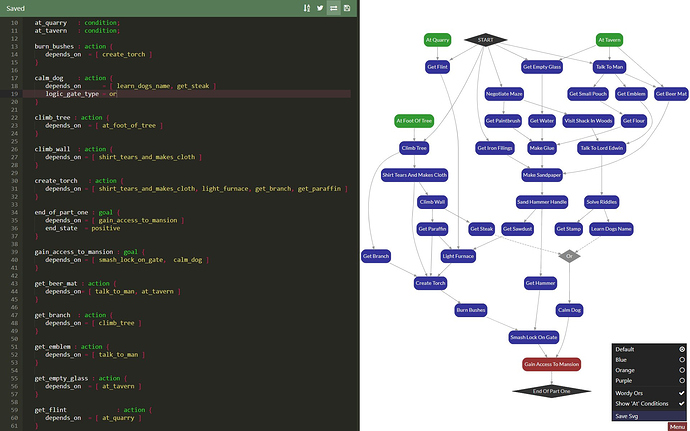 I sat on the release for quite some time as I didn't have time to document it to a high standard, so let autocompletion and the in-built sample be your guide. For autocomplete, press Control + Space on blank lines and between [ ] .
This system previously existed as "Vizon" (also written by myself), but this new version has more features and a modified syntax.
I'm sure most people here are aware of Puzzle Dependency Charts, but if you are not, they are useful for planning out puzzle trees for IF / Text Adventures / Graphic Adventures, pretty much anything with dependent puzzles.
A very linear game will have almost a straight line from top to bottom (or left to right) describing actions the player should perform in order to progress. Any time the player gets stuck, it ends all forward momentum and the player is likely to get frustrated and stop playing the game.
Fun games tend to have multiple things that player can be working on / solving at the same time, and that takes the form of a girthy diagram, where all puzzles are working towards a common goal, whether that be the end of the game or the end of an "act" or chapter.
For more information on PDC, read Ron Gilbert's blog on Puzzle Dependency Charts here.
Here is an example SVG that was generated using Puzzlon (spoilers for TWO):