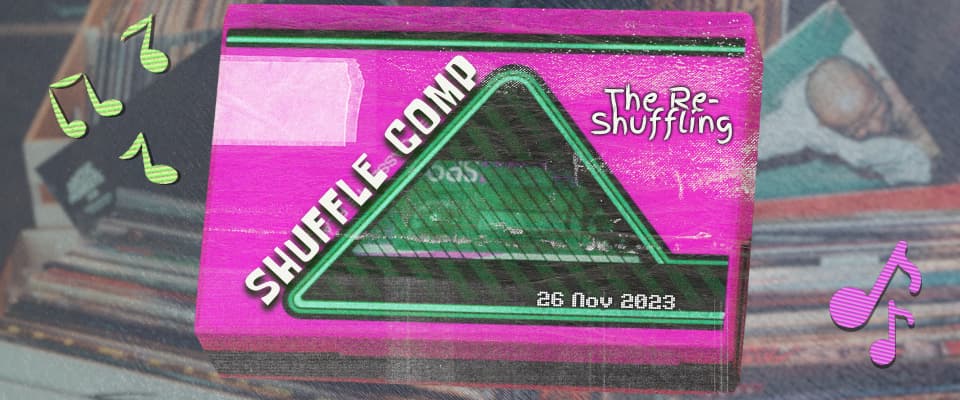 For the first time in 8 years, ShuffleComp has returned.
ShuffleComp is a musical interactive fiction competition where you make games based on songs, which are submitted by other entrants. The competition previously occurred in 2014 and 2015. We as the Neo-Interactives (@LapinLunaireGames, @sophia, @manonamora, and I) are rebooting this competition for what we believe is the first time since 2015.
The rules here are based on the rules for ShuffleComp 2014.
How it works:
Sign up for the game jam and/or submit a playlist of up to 8 songs here. This is due by November 26. You can make games without submitting songs, or submit songs without making games, but it is highly recommended that you do both. Songs from people not making games will only be used if there are not enough songs otherwise.
Before December 3, you'll receive (by email) 8 songs randomly selected from other participants' submissions. Now, you'll write a game (or up to 3 games) based on some of these songs. You can submit games to the itch.io jam page.
Games are due by January 5, 2024. After which, you'll be able to vote for the following two weeks.
Sign-ups and music submissions
Rules for games:
Games should be interactive fiction in some way.
Games should be based on at least one of the songs you received, but can use any number of songs. You can interpret "based on a song" however you'd like.
Games should not include any generated AI content.
You can submit up to 3 games, using different songs or the same songs.
Voting will be based on the use of songs and the overall game goodness.
Contact: