So my first attempt at an IF comp has come to and end, what a journey!
My game 'The Sacred Shovel of Athenia' started life as a 'little' game for my son to play to introduce him to the idea that befriending a cat wasn't such a bad thing after all. Just before 'lock down' in the UK, my wife had acquired a kitten from a work colleague. He was a black and white cat and we named him 'Wispah'. My younger son was a little scared of cats and wasn't too sure what to make of this new family addition. Around the same time I was looking to create a 'small' game in Inform 7 as my other attempts were all getting a bit too long and complicated, due to my inability to focus on an idea and not move off down rabbit holes, adding more and more complex ideas until the game either became a mismatch of things that didn't work or I became 'bored' with it and gave up. I hit upon the idea of creating a game where the 'goal' was to earn the trust of a cat. I have always liked 'fantasy' settings in games so decided upon creating a scenario where the objective was to collect a 'treasure' and return it to the king of the land. To do so required you securing an artefact, that in itself required befriending a cat. I finished the game at the end of the UK lock down and got my sons and my wife to play it for feedback. None of them had had experience in IF before but they all enjoyed playing it and came up with a few suggestions and bug 'reports' to fix. With the end of 'lock down' I had returned to work and things became a little 'hectic' and therefore the game 'sat' doing nothing. In 2022 I was perusing the intfiction.org site (I only delved into the community now and again and mostly to look at ZIL postings as that is the language I was interested in), when I noticed that there was a competition called 'Spring Thing' which allowed 'small' games to be submitted. Unfortunately, this was just as the entries for that competition were about to close!. Therefore, the game sat in limbo again. This year (2023) I made a promise to myself to get it ready for this years competition, but again work / life things got in the way. However, I ran the game past my family 'testers' again just before the deadline, fixed a few more issues and pushed it to the competition.
Lessons learnt: The most important lesson I learnt was that 'family' testing was not enough! Although they did their best, and came up with some great suggestions and found a number of bugs, it was not sufficient enough for a polished game. I did try to fix 'on the fly' some of the things reported by the people who played the game during the competition but it would have been better if these things had been found before hand to give the game a more stable feel.
Thanks: I would like to than everyone who played my game and for the excellent feedback and 'walkthrough' transcripts given to help resolve issues and to perhaps enhance the story. I would also like to thank @mathbrush for always promptly answering my 'novice' questions regarding the comp and for running the comp itself! - Well done

I would like to submit a 'post comp' version of the game which continues to 'fix' some of the issues found during the comp and to add a few 'extra' things that should tidy some obscure parts of the game. I am not sure I would get this finished in time to add it to the 'final' comp version (I think we have about a week to do that?), but I could post it to one of the IF hosing sites myself if not. If any one is interested in helping me 'test' that final release, I would be grateful if they could message me and I will pass a copy of the game for them to check.
And Finally - The cat that started it all off (although no longer a kitten

) :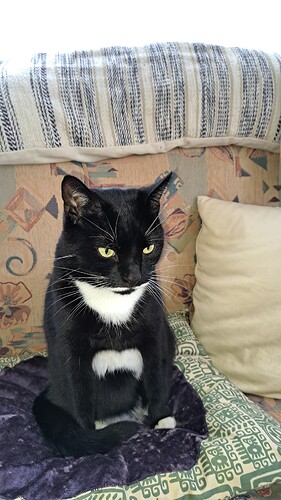 To all the IF community - keep up the good work. I think that IF is a wonderfully expressive platform for all sorts of backgrounds and genres, and all the works submitted to the 'Spring Thing' competition only go to enhance this assumption
- AndyG