Twine Version:2.3.12
Story Format: Harlowe 3.2.1
I have seen this question asked on quite a few twine forums or wikis and I have honestly tried to follow the advice in all of them but I am certain I am missing something simple so if anyone has any time to check and let me know what I am doing wrong I would really appreciate it!
I have followed the John Stewart guide and my current game has this -
Javascript panel-
if (!window.harlowe){
window.harlowe = {"State": State};
}
Final game passage-
(set: $gameTimerActive to false)(set: $displayTime to $gameTimer)(set: $minutes to (floor: $displayTime / 60))(set: $seconds to ($displayTime % 60))
$playername you have played for $minutes minutes and $seconds seconds!
Enter your email address to submit your results!
(input-box: bind $email, "X===", 1)
(link-repeat: "End")[
(if: $email is not "")[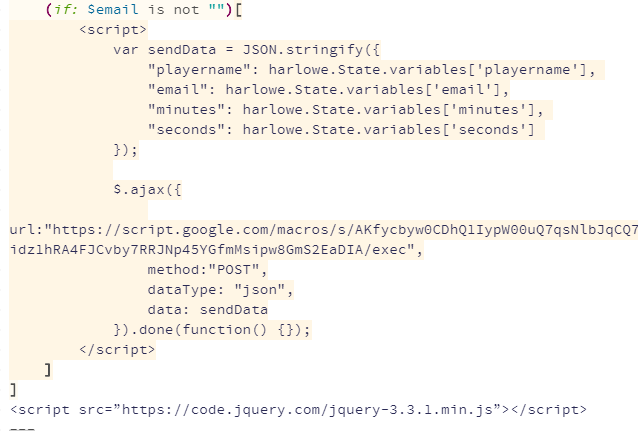 Link to google sheets document where I have copied and pasted the John Stewart text and deployed it as a web app- New BritSciFi tracker - Google Sheets
I think that should be everything and just to clarify the playername variable is set much earlier and that is why it is not set on this passage.
Hope that all makes sense and any help would be amazing! Thanks