Hello all. I was at EGX2018 (The UK's biggest games expo) on Friday and witnessed this occupying at least eight PS4 Pros in a row; thought you'd be interested.
(skippable context)
[rant]Context: like any huge expo, there are a thousand things competing for attention, from the new Spiderman game and Call of Duty, Kingdom Hearts III, Life Is Strange 2, indie games, VR games, retro games, PC hardware, gaming furniture, board games, jobs in games, university courses, cosplay… Stages where people can win things…
In short, if you're there for a day or two, you couldn't take everything in. You've got to have priorities.
There's a PS4 release coming soonish that I'm more than excited for, called Dreams. If you're not aware of it, it's the next 'LittleBigPlanet', a tool for creating your own PlayStation games first and foremost, in a very well-polished UI, to share with any other Dreams players. Complete with a campaign that the developers have built entirely with their own engine, using DualShock controllers instead of mice and keyboards and traditional tools.
(I'm coming to the point, don't worry.)
The Dreams stand at EGX had twenty PS4s set up for players to try one campaign level or any one of seven very different mini-games that the studio had come up with in their free moments, so even within that stand there were competing attractions.
One of the games was a ~40 minute piece of text-based interactive fiction called 'Given Time'. In all of the noise and distraction of the show-hall, against all the competition, this happened:[/rant]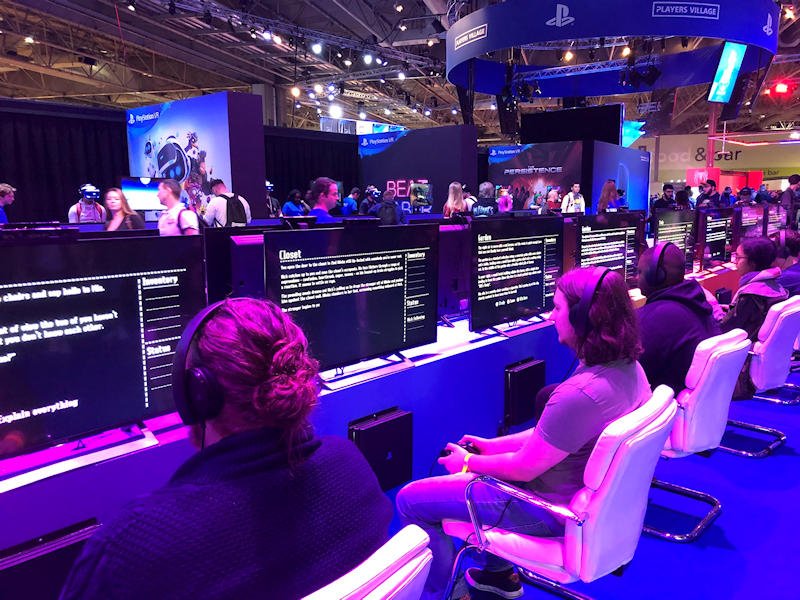 (original tweet: twitter.com/mediamolecule/statu … 1535249408 )
Yes, by its nature, it was going to see longer average playtimes than the other demos. But still a remarkable showing that I thought you might like to see.
To see more of the mini-game in question, see YouTube: https://youtu.be/L0zEis7QGmA?t=29m51s
–
Den
(a blast from a past)