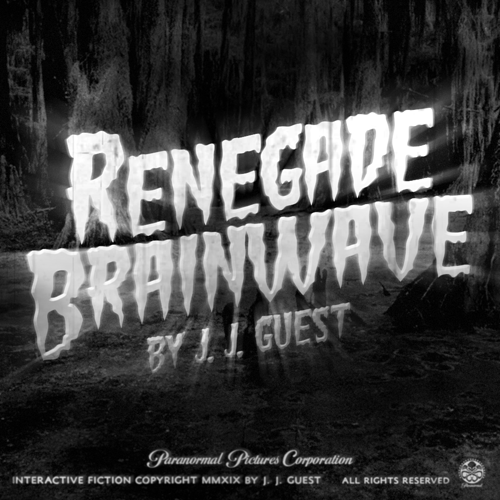 "Beware! Beware! Take care! For you are about take part in an interactive story that will reveal the terrifying truth behind the mysterious Soviet space programme! Revelations of incredible horrors that will terrify you with their brutal reality!

For this is the story of a mysterious force — a force that has crossed the billion mile vastness of infinite space! Boneless, fleshless, almost invisible and yet imbued with incredible power — I speak to you of cosmic radiation!

The deadly solar radiation that has the power to raise the dead! The power to amplify brainwaves to many times their natural strength — so that even a weak little puppy could wipe out a city of concrete and steel — with the power of her mind!

In a future that grows ever closer, the fate of the Earth lies in the hands of one man. That man is Detective Frank Douglas — that man, my friend, is YOU!

God help us… in the future!"
Renegade Brainwave is an interactive fiction inspired by Hollywood B-Movies, based on my 2010 ECTOCOMP 2nd place winner. The new version features more locations, more puzzles, more polish, and an atmospheric soundtrack.
I made the soundscape as an exercise in teaching myself Adobe Audition. It features music by Monstrous Movie Music, who specialize in recreating previously unavailable classic film music from the 1940s - 1970s. The sound effects in the soundscape are also sourced from the golden age of Hollywood. A film-maker called Craig Smith has painstakingly digitized more than a thousand optical sound effect recorded from the 1930s - 1950s, and made them available on Freesound. At present, the soundtrack is only available on the download version, but I hope to have it working in a browser before long.
Renegade Brainwave was written in tandem with Alias 'The Magpie' and finished over the past year. It is a love letter to the films of Ed Wood, Phil Tucker, Ray Dennis Steckler et al, and was a lot of fun to make. I hope you have as much fun playing it! You can find it on my blog site, and on the IFDB. Reviews are welcome and encouraged!