If you are not planning to vote in ParserComp 2022, you are doing wrong.
But if you are inside of the Chosen Ones Circle of Knowledge and Voting Power ™, it is possible that you can find useful this little help in form of Google Spreadsheet Template, that you can copy to store your so valuable votes and information: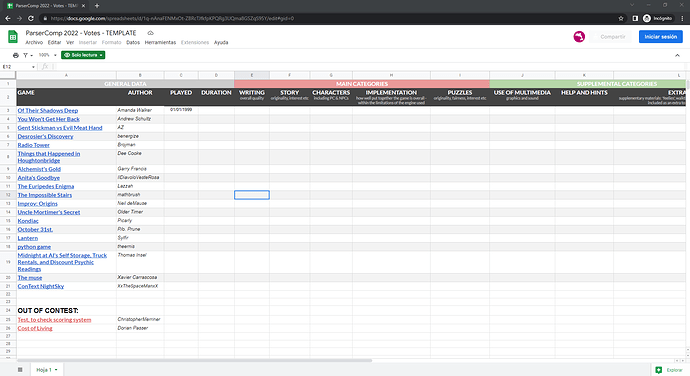 It has been under development during all this 2022 year just for that event, and it includes fantastic information as the names of the games and authors, and the categories of the comp. All that incredible information is now available to you for free during a limited time through this link:
docs.google.com/spreadsheets/d/1q-nAnaFENMxOt-ZBRcTJfkfpKPQRg3UQma8GSZqS95Y/edit?usp=sharing
To ensure you still can enjoy its enormous benefits, go to "File > Make a copy" menu, and in the popup you rename it to the name you like the most, like "My personal voting".
Do It now!
Voting at ParserComp 2022 is the new black.