Yay!!

So happy to hear this.
I did some play-throughs after the submission deadline and found lots of typos, clunky language, and bugs. So I put them in a 'edited during IF Comp' version. When I stopped finding bugs, I stopped.
Yesterday a reader found a typo and I fixed that.
But the game seems to be holding together. AND I scored a 4 on the boatiness quotient so I'm happy with that.
I did a word count today and it's 54,000 words. Amazing.
And today I felt a craving to work on "Fine Felines" which is a very good sign for my brain returning to its normal-ish state.
The Sydney trip with the refugee family last week was very successful! And I DID get "Bali B&B" finished and entered in a reasonable state (although the bugs I found post-deadline make me cringe).
I wouldn't say I'm fully recovered yet. I'm still walking into things, making dumb errors, struggling to remember basic things like "cheese goes in the fridge", and having enormous difficulty remembering what day it is. As far as recovery periods go, this has been relatively gentle on my mental health so that has been very nice.
This pic is me at Bondi Beach (which I'd literally never been to before until last week) with a two year-old refugee girl that I call "Little Miss Pterodactyl" because she loves to scream for joy. She is part of an Afghan family that my group, the Castle of Kindness Refugee Sponsorship Group, is helping to settle into my home town of Canberra. It involves a LOT of very tedious and awkward doctor visits (none of my group speak Farsi and the family only found out they were coming to Australia in June this year, so they're only just learning English) using a combination of phone translators, mime, and the Google Translate app. So yeah, I didn't need to research trying to socialise with people across major language barriers! But it is often very funny and easy, especially with this little one.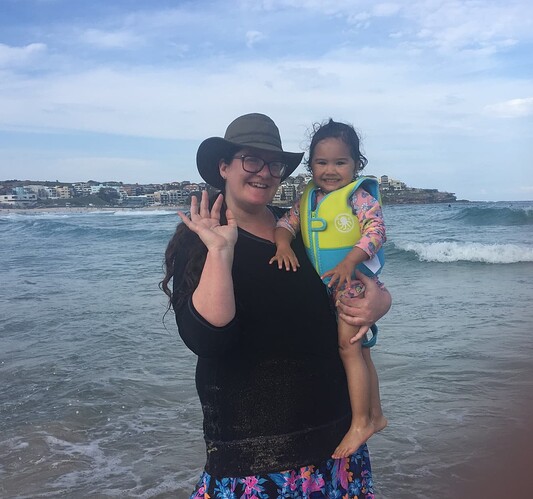 Copied from the "IFComp 2023 Predictions" thread:
I was at work today, having missed the official announcement thingy due to a family crisis (now mostly resolved, thank goodness), when I decided to look at the results online. I was a teensy bit worried that I wouldn't make the top 20 after all.
6th? SIXTH? SERIOUSLY???
I sat and glowed for about five minutes, then I went and checked again because maybe I read it wrong somehow?
And then I glowed some more.
I made the top ten as a newbie (newbie IF-er; I'd been writing novels for a very long time already) in 2016, and have been trying to get into the top ten again ever since (while watching the competition get better and better). I'm astonished that I finally made it.
I… wow. Just wow.
I still can't quite believe it. But I believe it enough to be very, very pleased and grateful.
Well deserved, Felicity. Glow as much as you can so the entire community can bask in it.
An engaging piece that somehow emotionally rang true with me. Honest and authentic and real.
Plus I love stray cats…
I'm breaking my usual last-minute-panic-flail writing technique in 2024, because I already know roughly what I'm writing.
It's called "Miss Duckworthy's School for Magic-Infested Children".
Right now it is entirely unwritten and thus perfect in every way.
I am so, so encouraged that I seem to have improved as a writer in the last seven years.
Now to get even more betterer!
Congratulations! I was only able to play for about an hour, and not even far enough to feel I was qualified to cast a ballot, but I thought it was charming, and very much resonated with a fantasy I had when I was younger of running such a place (though Bali is even more exotic than the locations I had in mind). I look forward to playing post comp.
Kudos also from my wife, who doesn't even play interactive fiction but she was listening to the live stream of the awards ceremony with me, and she picked your title as the one from the top ten which grabbed her interest.