It was rather too close for comfort at times, but the Kickstarter for "Murder in the Mail: A Bloody Birthday" was successful in the end.
It's a narrative murder mystery story which is physically mailed to the reader. Each week for 8 weeks they receive a letter, a postcard, an object, and a piece of art—all of which contain clues about the identity of the killer.
The basic story is that Naomi, an art student, was murdered at her own 18th birthday party. One of the party guests is the killer, and "you" (her cousin Hachi Sasuki, also an art student) have asked all the guests to write you letters and send you art about Naomi and her death as you try to figure out whodunnit.
This is one of the pictures in the story, which contains several clues as well as the novels by all the contributing authors (my own are "Heart of Brass", "Silver and Stone", and "The Monster Apprentice", although I doubt they're visible in this size).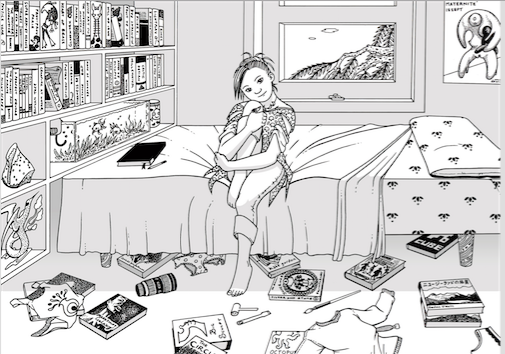 There are about 70 people in the first mail-out, who will start receiving their stories in June. I will do my best to synchronise the stories all around the world. The forum has a section devoted to letting readers discuss their clues and theories with one another in real time, without spoilers, week by week.
The story will have an official art installation & book launch here in Canberra in August, after which it will be available for purchase for 13 months before being turned into a "normal" illustrated book.
The first unbiased review is here, from a book reviewer, and there are game reviewers etc looking at it right now ready to write their own reviews.
And there WILL be another story, called "Magic in the Mail: Feuding Fae" which will be fantasy, released (with its own Kickstarter, forum, etc) in 2019.
How to buy the story:
The simplest way to get the story is to email me at MurderintheMailStories@gmail.com with your POSTAL ADDRESS, EMAIL (in case things go wrong), and PAYMENT DETAILS (eg "I just deposited the full payment into your account/PayPal, under the name "Bob Flibbertigibbet").
Make sure to label your payments with something unique to you (your name and/or the name of the recipient). Labelling things "Murder in the Mail" will NOT be helpful.
PayPal/Email: MurderintheMailStories@gmail.com
Bank details:
Commonwealth Bank (Australia)
06 2692
3320 8197