The demo from Otto73 (the link is in a thread a little further down in the forum) convinced me to have a try at compiling for the WebUI. I attempted to follow faithfully the instructions in the doc. I'm using adv3Lite and Workbench (the most recent versions of everything, I'm pretty sure).
My experience was not good.
After editing the .t3m as instructed, in Notepad++ while Workbench was not open, I launched Workbench and did a full recompile for debugging. All appeared to go well until I typed a command in HTML TADS. (The command was a gonear – that probably isn't significant, but it might be.) At that point, HTML TADS crashed.
It now crashes consistently when attempting to load that game file. I get a few error message boxes. They look like this: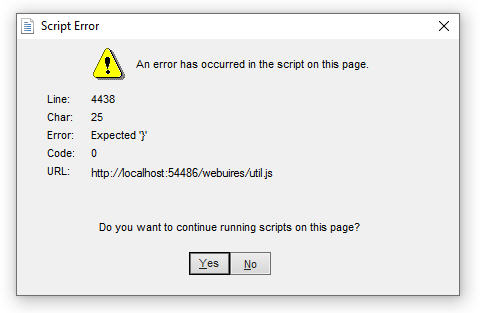 Not being able to work in HTML TADS while developing the game would make life difficult. But there's more.
I next used Workbench to do a Build Web Page Package. This produced a set of files, including a .t3 and an index.htm. But index.htm turns out to be just a stub of an ifdb listing page. It's not a file that can run the .t3. Nor is there a .css file that can be edited to alter the appearance of the game.
It appears the virtual server is some other piece of software that I don't have. So where is it? What is it? How can I check what my game looks like when played in a browser, when Workbench doesn't create anything that will run the game in a browser? I'm mystified.
Comparing this workflow experience to Twine is revealing. In Twine, when you press the Play button, your default browser opens up with the game already running. (Well, Twine doesn't actually produce games, it produces stories, though Twine users call them games. But that's a rant for another time.)
I'd love to be able to use T3 to produce a game that will play in a web browser. And I'm not a dummy – I can even write simple javascript if I need to. But at minimum, I would need a set of clear instructions on how to write my T3 code, coupled with a compiler that produced a browser-ready set of files (including a .css file, obviously).
This is probably sounding like a rant, but it isn't. It's a plaintive cry of distress. Am I to be forced to resort to I7 with Vorple? I hope not, but it's looking rather likely at the moment.