Inspired by the Brimbank Writers and Readers Festival, which is running an Interactive Fiction Panel this year (and foolishly inviting me to join in), I've convinced my "Choices: And The Sun Went Out" Tin Man Games co-writer Alyce to come, and shall do my best to draw in more interactive fiction writers, because why not?
There's bound to be a food venue of some kind (I shall consult my Melbourne associates if no one here speaks up) we can invade en masse for an afternoon on Saturday or Sunday.
I will absolutely dress for the occasion (probably steampunk, possible pirate) and I'm generally difficult to miss.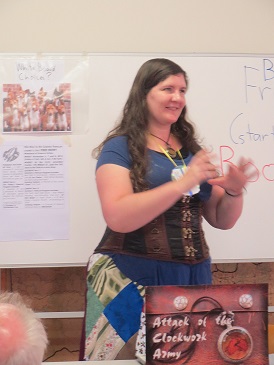 PS I'll also be running an IF workshop focusing on ChoiceScript/Tin Man Games stuff in late September in Canberra, if that's to anyone's taste.