Brought to you by the IFF! Enjoy!
(click the link to download the issue from my dropbox)
http://bit.ly/15oF1xG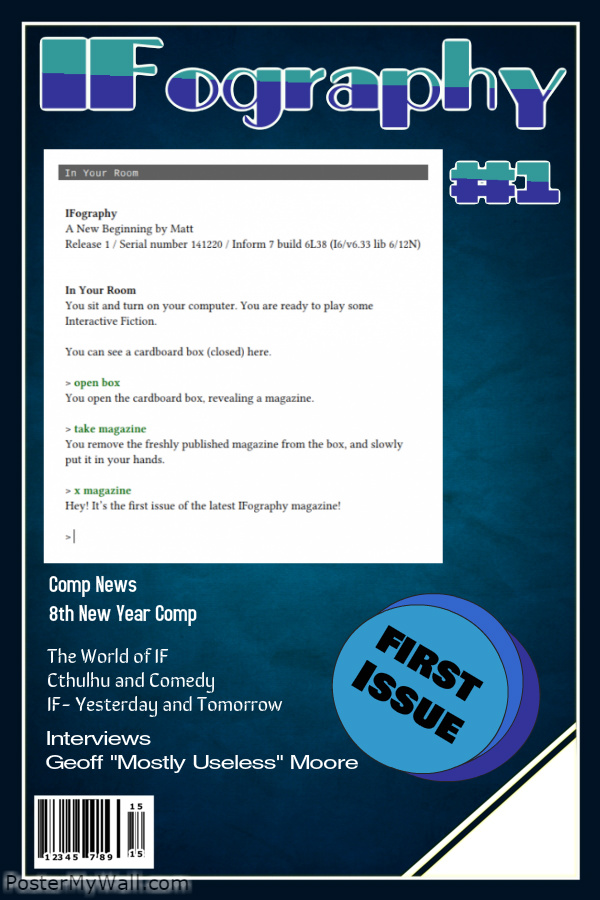 Where did you get that photo of me? I don't even have a Facebook account!
Our paparazzi are the best!

Hey, all. IFography now has a website! You can read the mag there, download the text file or pdf file, AND you can subscribe to the mag to get on the mailing list!
The "read online" link is broken

Thank you! We're still working on getting everything stable. Will let Matt know.

Yup, everything should be fixed! Though the end result isn't really what I expected, haha.
Great job! I was going to suggest setting up a mailing list, but I can see you already beat me to the punch. But I've really liked what I've read so far.
Thank you!

Good job guys! Subscribed!

Nicely done. I look forward to seeing where you go from here.
Thanks! Us, too! We're already gathering content for issue #2. (Taking submissions from anyone with something to say, just email us)

This is a fun take on the IF scene. Thanks for putting it together.
Question about the production: the PDF file was constructed in such a way that you can't search it or copy text. (I'm using a Mac viewer tool rather than Adobe software.) Obviously the text-file version is fine for all of that, but it would be nice if both were. Does your PDF software have options for that stuff?
Also, I hope you'll upload the issues to the IF Archive as they come out. (Both PDF and text versions.)
Hey, thanks! Sorry about the pdf issue. I used LucidPress to put it together. It made the pdf, too. I'm sure we will use something different for the next issue as we are looking around for what's easy and what looks good.
And sure, we can put it on the archive!

Good one. Interesting publication. We forget how much value there is in formal curation, as opposed to lots of content scattered everywhere. I even scanned through the reviews despite the fact that they probably wouldn't have caught my eye on a blog. (Not that I don't like reading reviews! I like reading reviews as well as writing them, but mainly only reviews of specific thought-provoking games that I've played or ones that I haven't played but have heard a lot of hype about.)
Thanks! We're just having fun with it. Trying to remain current but also we like talking about games we're currently playing, even if they are somewhat older.

Nice to see a new source of reviews and interviews for IF.
This is such a great and timely resource for me. Subscribed!
I would really want to say a big thank you to everyone who had checked out the magazine! It has been immensely fun to write everything out and it's really pleasing to see people enjoying it!