I have:
The Lab is a room.

A podium is in the lab.

A bed is in the lab. The bed is a supporter. The bed is enterable.  The description of the bed is "A standard single bed.".

The black spider is on the bed.

[I'm doing the following because I need to do some custom stuff when entering the bed]
Instead of entering the bed:
	now the player is on the bed;
	say "You get snuggly in the bed.".
	
Test me with "x bed / enter bed / exit".

And the result is: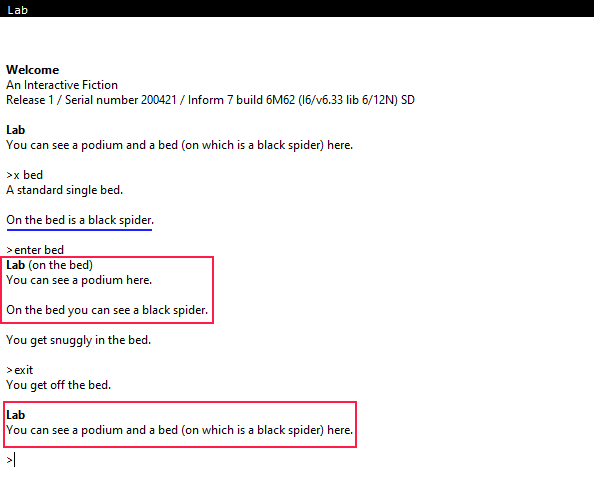 When entering and exiting the bed the entire room gets relisted and it looks quite weird to me. Is there a way of avoiding this (I don't want Inform to print the content of the red rectangles)? I admit that I don't know if this is easily achievable or even advisable.
Also since making another topic just for this is probably too much… if I wanted to have some custom text instead of the auto-generated "On the bed is a black spider" how do I achieve that?