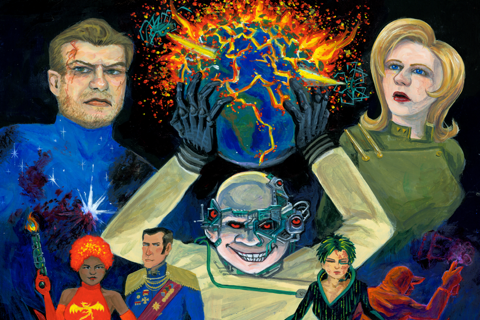 We're proud to announce that Diabolical, the latest in our popular "Choice of Games" line of multiple-choice interactive-fiction games, is now available for Steam, iOS, and Android. It's 25% off until November 13th.
Start practicing your evil laugh! As the world's greatest criminal mastermind, choose a lair, hire a minion, and steal the world's largest ball of aluminum foil! (Or, destroy the world. FINE.)
"Diabolical" is a 130,000-word interactive novel by Nick Aires, where your choices control the story. It's entirely text-based–without graphics or sound effects–and fueled by the vast, unstoppable power of your imagination.
Famous, feared, or filthy rich–why not all three? You've got the money and the motives to build an evil empire worthy of the most ruthless villain the world has ever seen. Crush the good guys and terrorize the populace! Stamp a big red "FAIL" on your enemies' foreheads! Plunder your way to world domination–or sit back and pet your kitty while your henchmen do it for you.
Will you be a high-tech daredevil, a ruthless military soldier, or an apparition terrifying to behold? What calling card will you leave at the scene of your crimes? Whatever your choices, the results will be diabolical.
Play a villainous story of scheming, grandstanding, and laughing evilly.
Interview and hire the best possible (or best available) minion.
Decide when to use trickery, when to use force, and when to hide behind henchmen.
Choose the ultimate, guaranteed-to-be-infamous nickname.
Play as male or female, with straight, gay, and bisexual romance options.
Destroy the world!
We need your support to continue delivering our games on Steam. Our goal is to release our entire catalog of interactive novels on Steam. Based on the extraordinary performance of Choice of Robots and Champion of the Gods, both which made it onto Steam's front page this year, Valve has allowed us to ship a handful of additional games. We'll need to continue to deliver outstanding results to prove that interactive fiction can be successful on Steam.
We're asking all of our fans to follow us on Steam. Even if you don't use Steam that much, it will be a big help if you sign up to follow us there, because the more followers we get, the better visibility we get on Steam's curator list. (Our goal is to hit 3,000 followers for our Steam curation page; we're about 80% of the way there as I write this!)
When you follow us, you'll see our games and our recommended games right on your Steam home page. It's free, and it's a big help to us, so follow us today!
We hope you enjoy playing Diabolical. We encourage you to tell your friends about it, and recommend the game on StumbleUpon, Facebook, Twitter, and other sites. Don't forget: our initial download rate determines our ranking on the App Store. The more times you download in the first week, the better our games will rank.