Hello! I am rather new to this community, but I've been reading IF for a while, as well as some personal writing. Personally, I really like writing while travelling. Usually I don't have a laptop with me, which appears mandatory for writing IF as mobile devices are not supported. I have tried web platforms like twine and textadventures, but the lack of mobile support makes them ill-equipped. So I have taken up on the quest to write a simple editor for Android on my own terms. Now 30 hours in, it begins to take shape. I've decided to share my development progress with you.
This is a personal project but if you want to give support, feedback, advice, I appreciate it. What I'd like to hear from you is whether or not you think it will be useful for you, if you have any suggestions based on your experience writing IF, and if you would consider supporting this initiative in the future. I will release the first version of the editor in the playstore for free and ask for donations if you find it useful or like to see further development.
Thank you in advance!
A summary for version 1:
[spoiler]
This first version will not support any existing formats other than my own (a json file, see technical details below).
A simple web interpreter (reading IF, not write) is available to also deploy your story on your own site.
Newer mobile phones can use the web interpreter, based on javascript and html5, via the chrome browser, but not all.
The Android app can read and write the json stories.
Json stories have the following features:

A page contains choices
A choice links to a new page
Some navigation commands are available to keep things dynamic, such as ":back" to go to a previous page
Choices can hold actions to add/remove variables (money, inventory items, storyplot keywords)
Choices can be coupled to a condition (e.g. money > 10, "Do you want to buy this?")
A page holds a collection of descriptions
A description contains a piece of text coupled to a condition similar to choice
Any text can show variable values using this format: [variable|default] (e.g. "You have [money|no] coins")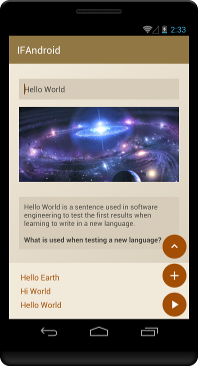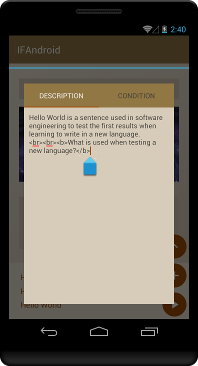 [/spoiler]
Technicalities:
[spoiler]Here you can play a very simple web demo:
http://joozey.nl/projects/ifweb/
Here is the web source (copypaste, links don't work for browser commands):
view-source:http://joozey.nl/projects/ifweb/index.html
Here is the json structure:
http://joozey.nl/projects/ifweb/data.json
Here is the Development board:
https://trello.com/b/6Vs8f0S3/interactivefiction[/spoiler]
Progress updates:
[spoiler]Currently working functionality:
Paragraphs and choices can be added per page
Evaluating expressions for paragraphs and choices: you can show and hide text parts simply if the input condition is true. This way, you can evolve a story on one page dynamically, or come back to a previous page with content slightly changed.
Stories can be created and saved on the device external storage, so you can grab it yourself too with a browser app. Saving goes automatically with every action, so little to no loss of data if your phone suddenly dies.
New pages can be created and linked to by each choice.
Choices can modify variables (e.g. add / remove sword)
In planning
Extending variable editor (add/remove a variable in numbers, set to number)
Create Read interface for testing the story[/spoiler]