"Which do you mean, the X or the Y?"
More updates! I modified the code that generates the cylinder models so it puts a small ridge at the beginning, to make it clear where you start rolling. I went over my grammar again, and apparently the ablative case is used instead of the instrumental case for the path you're taking…probably. (But later on, the instrumental was entirely replaced by the ablative, so either way the ablative is definitely right for some time period.) The PI sign isn't used for the sound pi in Hittite; swapped that for PÍ. And I made a couple other little aesthetic changes to make it all look nicer.
"You can't see any such thing."
"You can't go that way."
The 3D printers in the lab are currently down for maintenance, which ruins my plan to get these printed before all the students come back for the start of the semester. But hopefully I'll have the physical objects within the next week!
My plan is to put one of these in the general prize pool for IFComp, and make the other a special prize for the highest-placing game that makes non-trivial use of a foreign language (i.e. a language other than the language of gameplay). Or maybe I'll translate a third phrase ("That's not a verb I recognize"?) and put two of them in the general pool.
There will also be a note that if someone wants a seal with their name on it instead of one of the IF phrases, I can do that too—that's actually significantly easier than these translations! Names are shorter and don't require any actual translating.
Side note: wondering why there are all those weird vertical streaks through the wedges in the 3D renders? It's because the program first lays out the strokes on a flat surface (each stroke being a subset of a rectangular prism, since that's the shape of an ancient stylus), then takes a bunch of vertical slices through that flat surface, and reshapes those slices into a cylinder. Those vertical lines you're seeing are the edges of a slice.
But I can use an arbitrary number of slices—the more slices, the smoother it gets—and eventually the smoothness exceeds what the 3D printer can handle, at which point it's not noticeable in the final product.
That is just amazing! Great work! I'm sure these will be much wanted prizes.
What do you mean, non-trivial? Like translating something into/from another language, or just using words from another language?
Incorporating another language in some way that would significantly impact the game if it were removed. A language-based puzzle counts, an NPC who only speaks French counts, but a room titled "La Seine" instead of "The Seine" doesn't.
Finally I have a reason to make that game where you are an American tourist with an English-Dutch dictionary trying to get to the Lekkerkerkerkerkerkerkerker, and your first choice is whether to go to the church, the main street, the graveyard, the port, or the farmlands.
This reminds me of a scene from Eurotrip poking fun at difficult foreign words where an American tourist is given a safe word they cannot pronounce.
The scene is NSFW, so don't click through if that's an issue for you:
When guess-the-verb puzzles get dangerous…
For a third one:

nu uttar=pat apāt natta kaneššun
then word-ABS=EMPH that-ABS not recognize-1S.PERF.ACT
"I didn't recognize that word."
I was torn on how to express "verb", since we don't know of any grammatical terminology in Hittite. So it's either going to be "word" or "action", and I settled on "word" (uttar). Then I put an intensifying marker on it to make the lines more balanced.
Or maybe I'll drop the intensive marker and shorten both lines a little bit…

Perfect.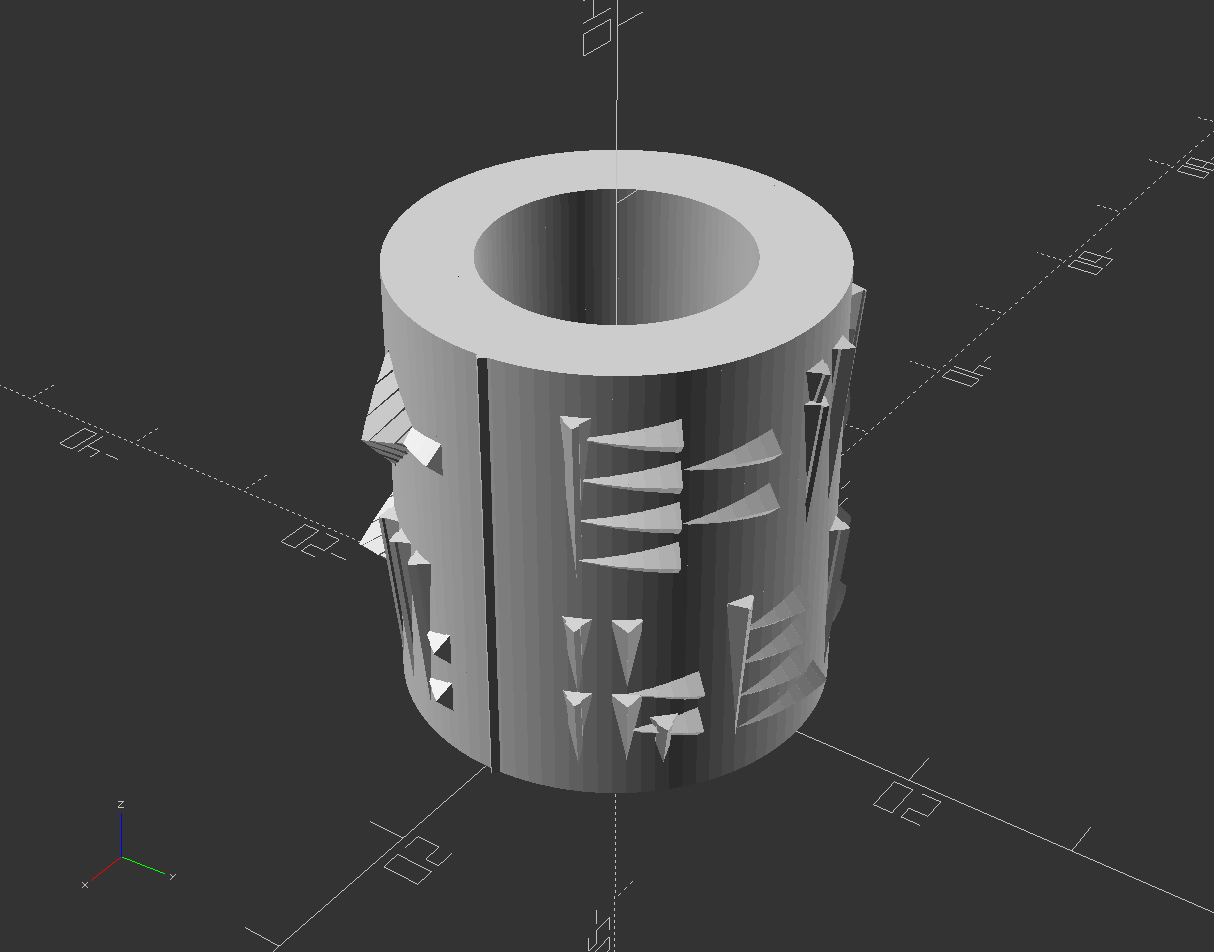 Also nicely small and portable compared to the others.
The lab I was working at is still having technical difficulties, but I've found another place to get things printed. With any luck I'll have these three seals in hand tomorrow!
Three seals in hand! The 3D printers at the other lab have a few limitations, and I'm going to see if I can tweak some settings to make them come out smoother; they have a few rough edges right now. But they print great!
(The lighting direction isn't right for these pics, but it's what I've got right now.)
"That's not a verb I recognize."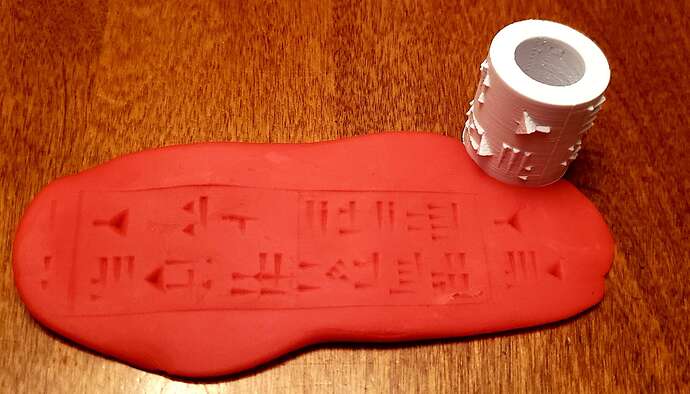 "You can't go that way."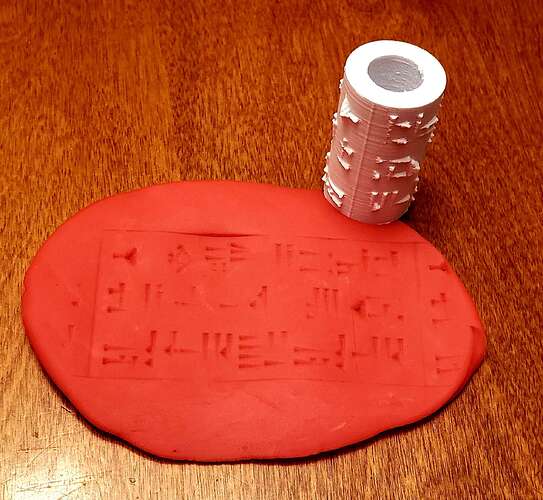 "You can't see any such thing."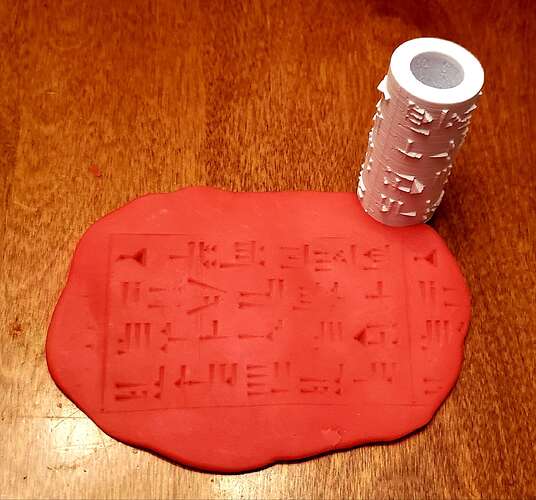 I'm still going to experiment a bit more to see if I can polish them any further. A coat of spray paint might also help the little rough bits. But one way or another, they're going into the IFComp prize pool!
I'd like to get my hands on the code/files for these with a mind to end up with cylinder seals made of fired clay. Or a pattern to print and apply as acid-resist on a cylinder of metal, limestone, or marble.
I find it fun to see how games react to foul language.
Real adventurers don't use such language.

I can definitely hook you up with that! All the code is open-source but a real pain to use on your own, since I haven't put much effort into making it easy to install. But it outputs SCAD for the model, which I then manually tweak a little bit (there's one parameter that I still haven't figured out how to calculate so I have to just try a few different values and see what looks right) and export to an STL for printing.
Now that I've got access to the ECE lab again, I'm doing some experiments to see if I can make them any smoother. The ones I already have work fine, but I want the prizes for IFComp to be as perfect as possible.