Each week, I will choose an outstanding example of I7 mad science and link to it here.
The "Rules"1
To qualify as "mad science," a winning post should almost certainly:
contain compilable code
achieve the original poster's goal better than any other posted solution
A winning post should also preferably:
use a technique never before conceived (or at least never before demonstrated on the forum)
deploy I6 inclusions, techniques from later chapters of Writing with Inform, or "hacks" intended to skirt compiler limitations
provoke gasps of alarm, cries of outrage and/or sinister chuckles
The winning entry need not be accepted as the solution to the posted problem – it is taken as a given that the general populace may fail to appreciate the genius on display. Additionally, the winner need not be an MSC member, though preference will be given to members in order to minimize the risk of accidental insult.
Nominations
Anyone, member or not, is free to send a direct message the group to nominate a particular post (preferably on a Wednesday or Thursday). If MSC members make a substantial show of support for a particular candidate, that week's award will be further distinguished as Peer Revued™.
Note that for the inaugural post, two awards were given because it seemed fitting that the first post to earn the award (numbered zero for technical reasons) should be publicly recognized.2
Winners' Privileges
Winners are invited to discuss the details of their winning invention here – including how it works, why it works, and (by way of cautionary tale) the circumstances of its inspiration and conception – for the edification of users of Inform and to promote the mad science ethos at large.
>FOOTNOTE 1: As with all things mad science, the prescribed rules are entirely optional and likely to be ignored, scorned and/or forgotten whenever convenient.
>FOOTNOTE 2: Yes, this means that first winner managed to earn the award over 4 months before it even existed. "Impossible" results are the hallmark of mad science at its best!
---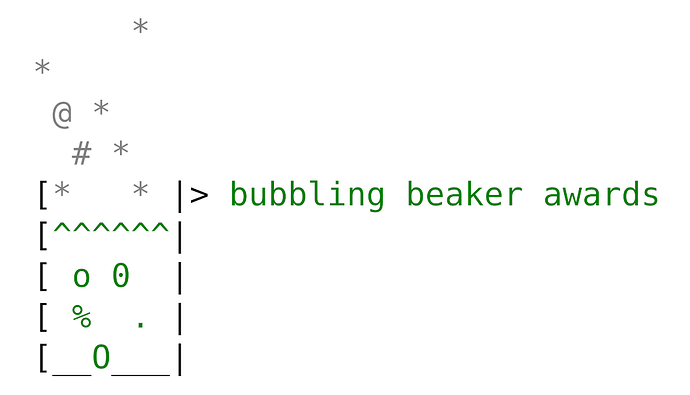 >CREDITS: The Bubbling Beaker Awards® header image and the mad-scientists flair icon image were created by FLACRabbit (author of A Matter of Heist Urgency).
---
2023
April 2023

August 2023

September 2023

October 2023

November 2023

December 2023